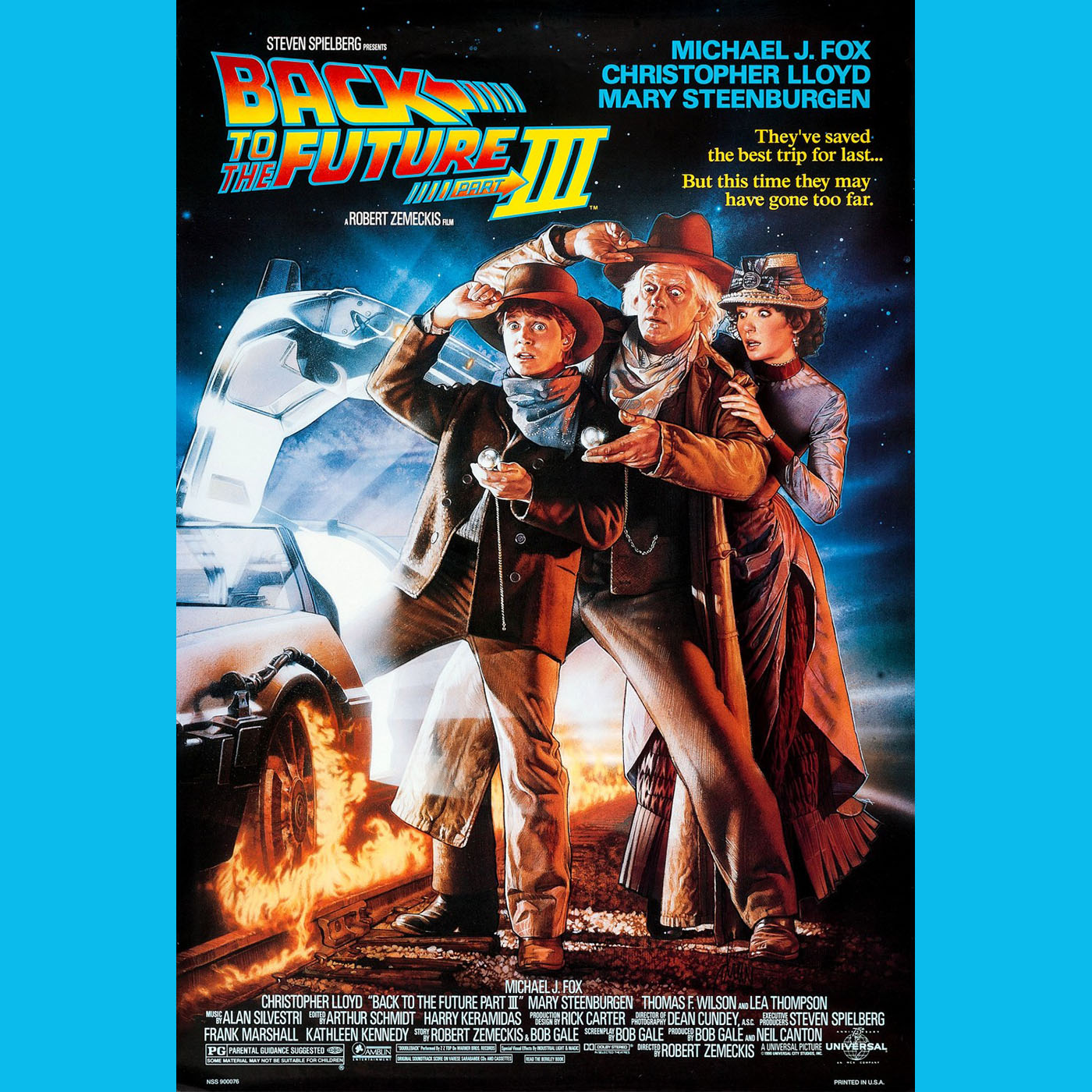 Our summer retrospective on the Back to the Future franchise comes to a close today with Back to the Future Part III written and directed by Robert Zemeckis and produced by Steven Spielberg.  Topics not related to time travel include what happened to fun movies, drinking, and Mike and Matt are old.   
Back to the Future Part III is a great film arguably at least as great as the original.  Doc and Marty are back for another adventure in time but instead of going to 2015 or 1955 Marty attempts to rescue Doc from 1885 before Mad Dog Tannen snuffs him out. What really sets this film apart from the previous film, other than being a fun western, is it's a completely new story.  The movie does not have large portions of the film before it to rely on.  It is a fun comedic take on a western that also pays homage to the genre.  Back to the Future Part III is a must see especially if you are a fan of the first two films.  Mike Talent awards the film a surprising perfect score with 5 out of 5 Reels!  Matt also really loves this movie but still thinks the original is a better watch.  He gives Back to the Future Part III 4.5 out of 5 Reels.
Next week the guys will review a new film that was supposed to be dropping in theaters this summer but well you know the apocalypse got in the way.  One of Disney+'s first straight to streaming films Artemis Fowl starring Ferdia Shaw and Colin Farrell.  Thanks for checking our little review show. Chat at you next week finally with a new movie!
---
If you have a film you would like Matt and Mike Talent to review you can email us at nerds@reelfilmnerds.com, listeners we are talking to you too.
Our little show can be found anywhere Podcasts reside such as iTunes, Spotify, Stitcher, Google Play, Tune In, etc. While you are there like, subscribe, rate, and review us if you can too!
You can find us on all things social such as YouTube, Facebook, Instagram, and Twitter.  Join our Facebook Fan Group so you can have a safe space to yell at Mike and Matt from the comfort of your keyboard while talking about films too.  Don't forget we do have an old fashioned website where you can watch trailers, read the host's bios, listen to the podcast, and get a ton more info on the movies we review.  http://www.ReelFilmNerds.com Thank you for liking, subscribing, rating, reviewing, and telling your friends about our podcast.
Go watch as many movies as you can!