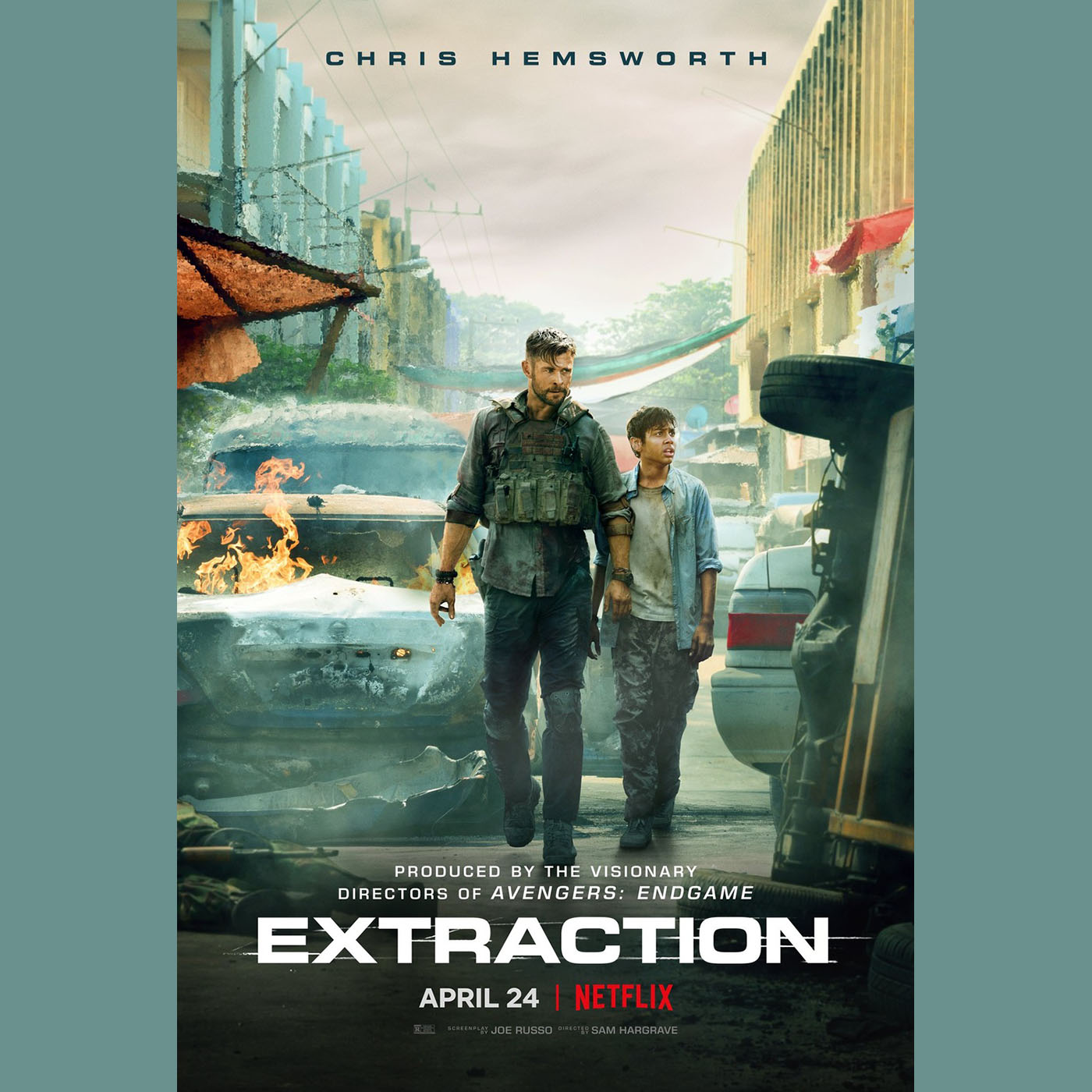 Hello fellow movie buffs and listeners both new and old. Is anyone else really missing movie theaters yet? Mike and Matt are especially some of the new releases we were promised. Fear not for today's Reel Film Nerds Podcast Matt picked a brand spanking new Netflix Original starring Chris Hemsworth, Extraction. Off topics today include CEO salaries, the Rambo franchise, and a lengthy discussion at the end of the pod about how Netflix makes money.
Extraction is a decent action film with a story that is very familiar. It is not a bad story; it has just been done over and over again in multiple different variations but better. The acting throughout the film was great. Nothing special but it was not bad either. One of the shining stars of the film is it's location. Isn't it nice to see Hollywood expand their filming locations outside of LA, New York, London, and Atlanta? Extraction is not a must watch for most people but you won't be disappointed if you do. The action is very good so if you are an action buff it is well worth your time. Hopefully the guys are finally getting back on track with their opinions.  Mysterious Mike gives Extraction 2.5 out of 5 Reels. Matt who is always a bit kinder than Mike gives the kidnap action romp 3.5 out of 5 Reels.     
Mike is feeling a bit down and out being locked up at home with a brand new baby all the time. He really wants to laugh and have a good time. For next week he picked a classic that is currently streaming on Netflix, Back to the Future! We might even do a Back to the Future retrospective over the next three podcasts. What do you think? Email us and let us know if you want to hear us talk about one of the best film franchises in history. Thanks for checking our little review show. Chat at you next week.
---
If you have a film you would like Matt and Mike Talent to review you can email us at nerds@reelfilmnerds.com, listeners we are talking to you too.
Our little show can be found anywhere Podcasts reside such as iTunes, Spotify, Stitcher, Google Play, Tune In, etc. While you are there like, subscribe, rate, and review us if you can too!
You can find us on all things social such as YouTube, Facebook, Instagram, and Twitter.  Join our Facebook Fan Group so you can have a safe space to yell at Mike and Matt from the comfort of your keyboard while talking about films too.  Don't forget we do have an old fashioned website where you can watch trailers, read the host's bios, listen to the podcast, and get a ton more info on the movies we review.  http://www.ReelFilmNerds.com Thank you for liking, subscribing, rating, reviewing, and telling your friends about our podcast.
Now go out and catch a movie!