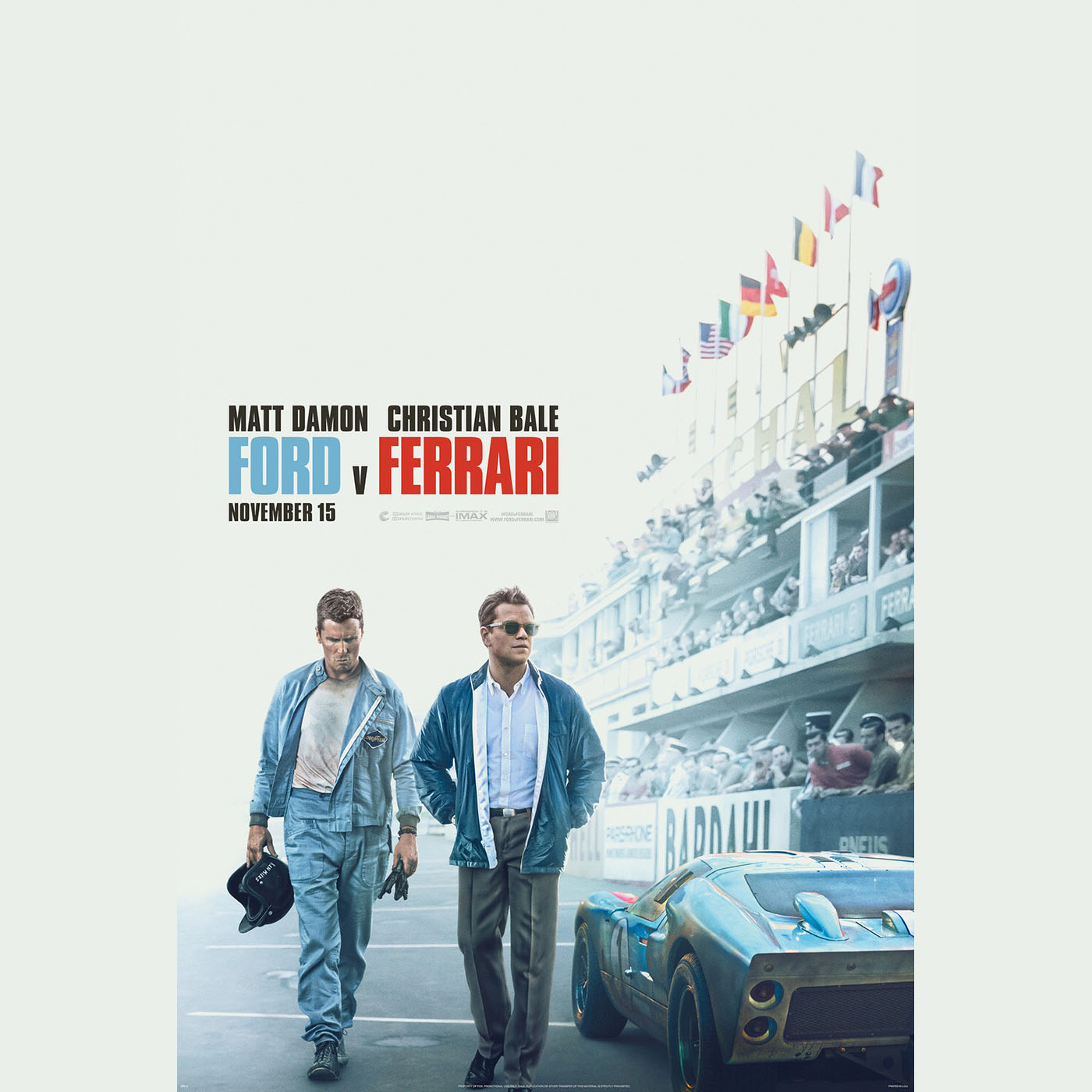 Welcome to Wednesday everyone!  The week is halfway over and your host's Mike and Matt are here to help by chatting about an incredible film!  Today the guys review James Mangold's Ford v Ferrari starring Christian Bale and Matt Damon.  Bonus topics today include Gallup New Mexico, The Mandalorian, and Adam Carolla's The 24 Hour War.
Ford V Ferrari is truly an amazing film.  This true story is exciting and intricate, the acting is incredible especially Bale and Damon's chemistry, and the cinematography is down right gorgeous. This film is not only for car lovers it is for everyone.  Yes cars are the focus of the film but honestly it's about relationships, working hard, and family. Matt and Mike both agree this is a must see in the theater.  The visuals paired with the incredible sound mixing really deserves to be experienced in the best way possible. Matt really liked Ford v Ferrari, he gives it 4 out of 5 Reels.  Mike also really enjoyed the movie but as expected he is a bit harsher than Matt awarding the film 3.5 out of 5 Reels.
Next week Tom Hanks returns to the big screen to portray one of the most loved and respected men in America Fred Rogers in the film A Beautiful Day in the Neighborhood.  If you have not checked it out yet make sure you watch 2018's documentary on Mr. Rogers titled Won't You Be My Neighbor? I am sure Matt and Mike will be talking about it a lot in next week's pod.  If you want their hear their review of the documentary check out RFN Episode #29 here.  Thanks for hanging out with us and we will chat at you next week, toodles!
If you want to listen to way better podcast's don't forget to check out our sister podcasts The Bluemilk Podcast, The Mile High Show, and Rogues Radio Podcast also based in beautiful Prescott, Arizona.
---
If you have a film you would like Matt and Mike Talent to review you can email us at nerds@reelfilmnerds.com, listeners we are talking to you too.
Our little show can be found anywhere Podcasts reside such as iTunes, Spotify, Stitcher, Google Play, Tune In, etc. While you are there like, subscribe, rate, and review us if you can too!
You can find us on all things social such as YouTube, Facebook, Instagram, and Twitter.  Join our Facebook Fan Group so you can have a safe space to yell at Mike and Matt from the comfort of your keyboard while talking about films too.  Don't forget we do have an old fashioned website where you can watch trailers, read the host's bios, listen to the podcast, and get a ton more info on the movies we review.  http://www.ReelFilmNerds.com Thank you for liking, subscribing, rating, reviewing, and telling your friends about our podcast.
Now go out and catch a movie!