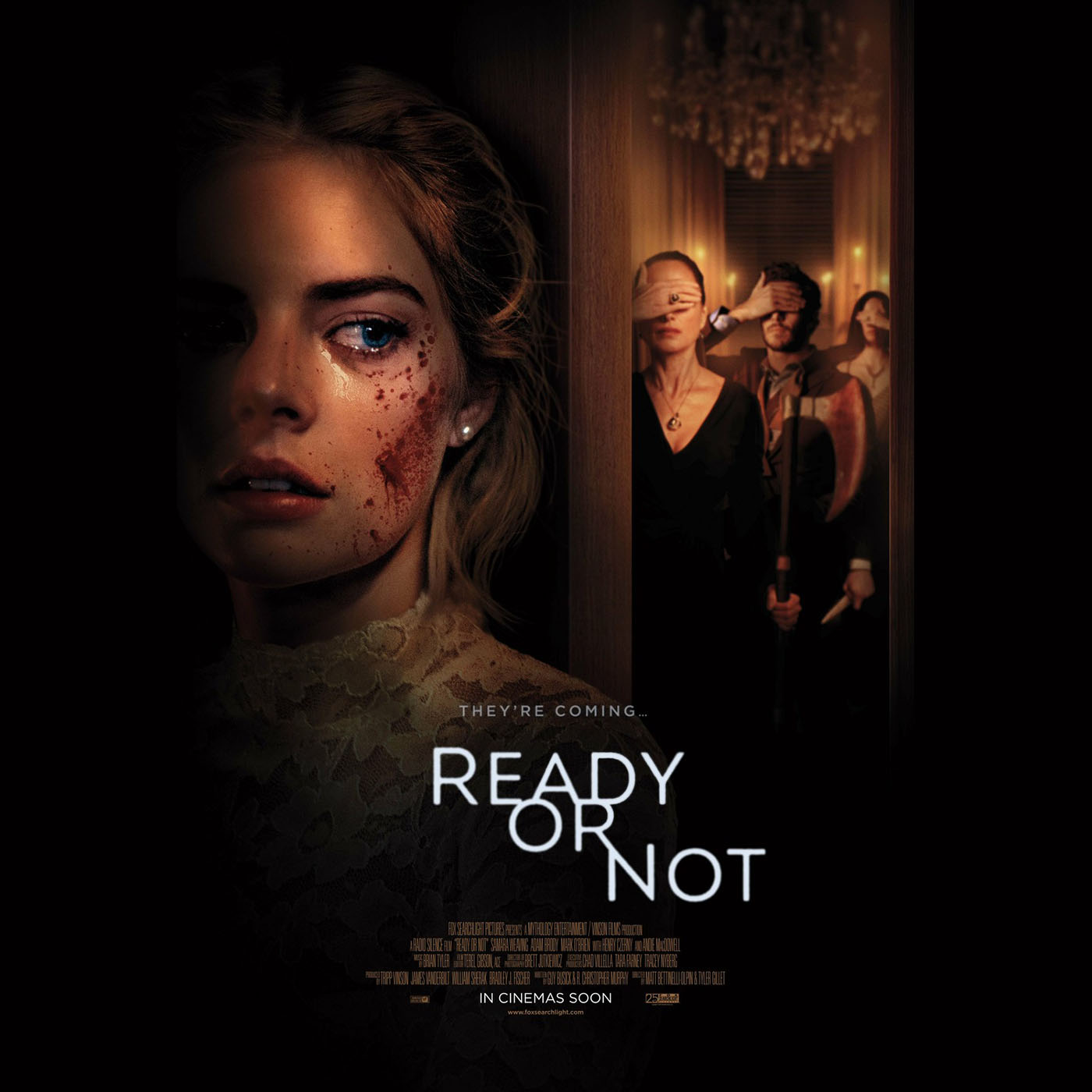 Mike, Mike, Mike, Mike, Mike, Mike what day is it Mike?  HUMP DAY!  Hello fellow nerds and movie buffs and welcome to the continuing saga that is the Reel Film Nerds podcast!  Today Mike (see get the joke reference now?) Talent and Matt review the new horror thriller mystery comedy Ready or Not.  Our way too many bonus topics mostly brought up by Matt include a Gateway to Geekdom recap, death of 20th Century Fox movie productions, and do movie trailers give away too much of the film?
Ready or Not is a fun horror comedy that knows exactly what it is and is not afraid to show it.  Samara Weaving does an incredible job as a bride whose wedding night goes terribly wrong!  She also has one of the best blood curdling screams Matt has heard in a long time.  Mike thought the trailer showed too many pivotal moments of the film. Overall your two hosts really enjoyed the film and agree if you are a horror movie or comedy buff don't skip this one.  Mr. Talent gives Ready or Not a respectable 3 out of 5 Reels.  Matt on the other hand gives it the rating the film truly deserves a 4 out of 5 Reels.       
Next week, yes next week, we are currently on our weekly podcast schedule, Matt and Mike will finally review Good Boys.  If the guys can get two reviews in they are going to start working their way through the many listener requests, since the summer movie season is coming to a close.  The first film picked from the request hat will be 1993's Demolition Man starring Sylvester Stallone and Wesley Snipes.  Thanks everybody for tuning in to another pod and we will chat at you next week.
If you want to listen to way better podcast's don't forget to check out our sister podcasts The Bluemilk Podcast, The Mile High Show, and Rogues Radio Podcast also based in beautiful Prescott, Arizona. 
---
If you have a film you would like Matt and Mike Talent to review you can email us at nerds@reelfilmnerds.com, listeners we are talking to you too.
Our little show can be found anywhere Podcasts reside such as iTunes, Spotify, Stitcher, Google Play, Tune In, etc. While you are there like, subscribe, rate, and review us if you can too!
You can find us on all things social such as YouTube, Facebook, Instagram, and Twitter.  Join our Facebook Fan Group so you can have a safe space to yell at Mike and Matt from the comfort of your keyboard while talking about films too.  Don't forget we do have an old fashioned website where you can watch trailers, read the host's bios, listen to the podcast, and get a ton more info on the movies we review.  http://www.ReelFilmNerds.com Thank you for liking, subscribing, rating, reviewing, and telling your friends about our podcast.
Now go out and catch a movie!