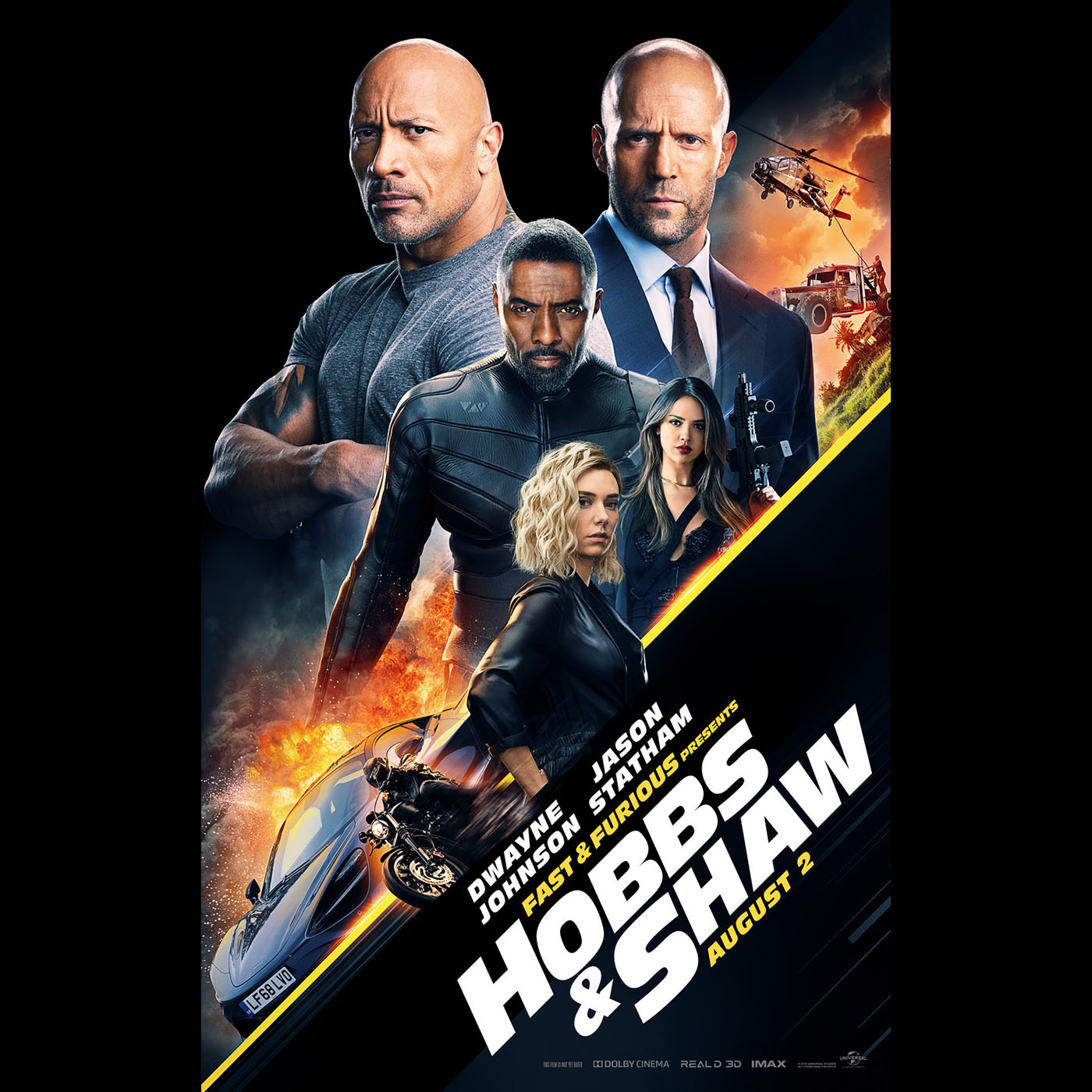 Happy almost Friday everyone!  Sorry this pod came out later than we typically post but your hosts had a busy week.  The jokes have been made, the off topics were discussed probably too much, and the Reels have been picked for this week's review of Fast & Furious Presents: Hobbs & Shaw.  Our copious off topics include Shark Week, The Boys, helicopter physics, and spin-offs.
Fast & Furious Presents: Hobbs & Shaw is not a bad movie but it is nothing special either.  It is exactly what it touts itself as in the trailer. An over the top action film with an incredible villain with some family values sprinkled in.  The chemistry between Dwayne "The Rock" Johnson and Jason "Badass" Statham is fantastic, especially when they start ripping on each other.  The sets are well done and the cinematography is great but nothing special.  One of the biggest disappointments of the film is the lack of supercars. They had one McLaren 750S driven by Shaw with Hobbs and Hattie squeezed in next to him, ya right.  For a franchise known for over the top souped up cars with amazing chases this film does not deliver. Fast & Furious Presents: Hobbs & Shaw is an entertaining movie but you will not leave the theater in deep discussion about this one.  Mike Talent who has seen all of the Fast & Furious franchise gives the movie 3 out of 5 Reels.  With a surprise upset especially for Mike Talent, no nickname Matt gives Fast & Furious Presents: Hobbs & Shaw 2.5 out of 5 Reels.
The guys are going to try to review 2 movies next week if they can.  So many movies so little time! The new release we will be talking about based on a series of childhood Scholastic books is Scary Stories to Tell in the Dark.  You heard it here folks Matt is actually excited to see a horror movie!  For our second film if we get the time will finally be the Tributary review of the Netflix Original Revenger.  Thanks for tuning in and supporting the show.
Please support our sister podcasts The Bluemilk Podcast and The Mile High Show also based in beautiful Prescott, Arizona.  They are way better podcasts than ours. Seriously.
---
If you have a film you would like Matt and Mike Talent to review you can email us at nerds@reelfilmnerds.com, listeners we are talking to you too.
Our little show can be found anywhere Podcasts reside such as iTunes, Spotify, Stitcher, Google Play, Tune In, etc. While you are there like, subscribe, rate, and review us if you can too!
You can find us on all things social such as YouTube, Facebook, Instagram, and Twitter.  Join our Facebook Fan Group so you can have a safe space to yell at Mike and Matt from the comfort of your keyboard while talking about films too.  Don't forget we do have an old fashioned website where you can watch trailers, read the host's bios, listen to the podcast, and get a ton more info on the movies we review.  http://www.ReelFilmNerds.com Thank you for liking, subscribing, rating, reviewing, and telling your friends about our podcast.
Now go out and catch a movie!