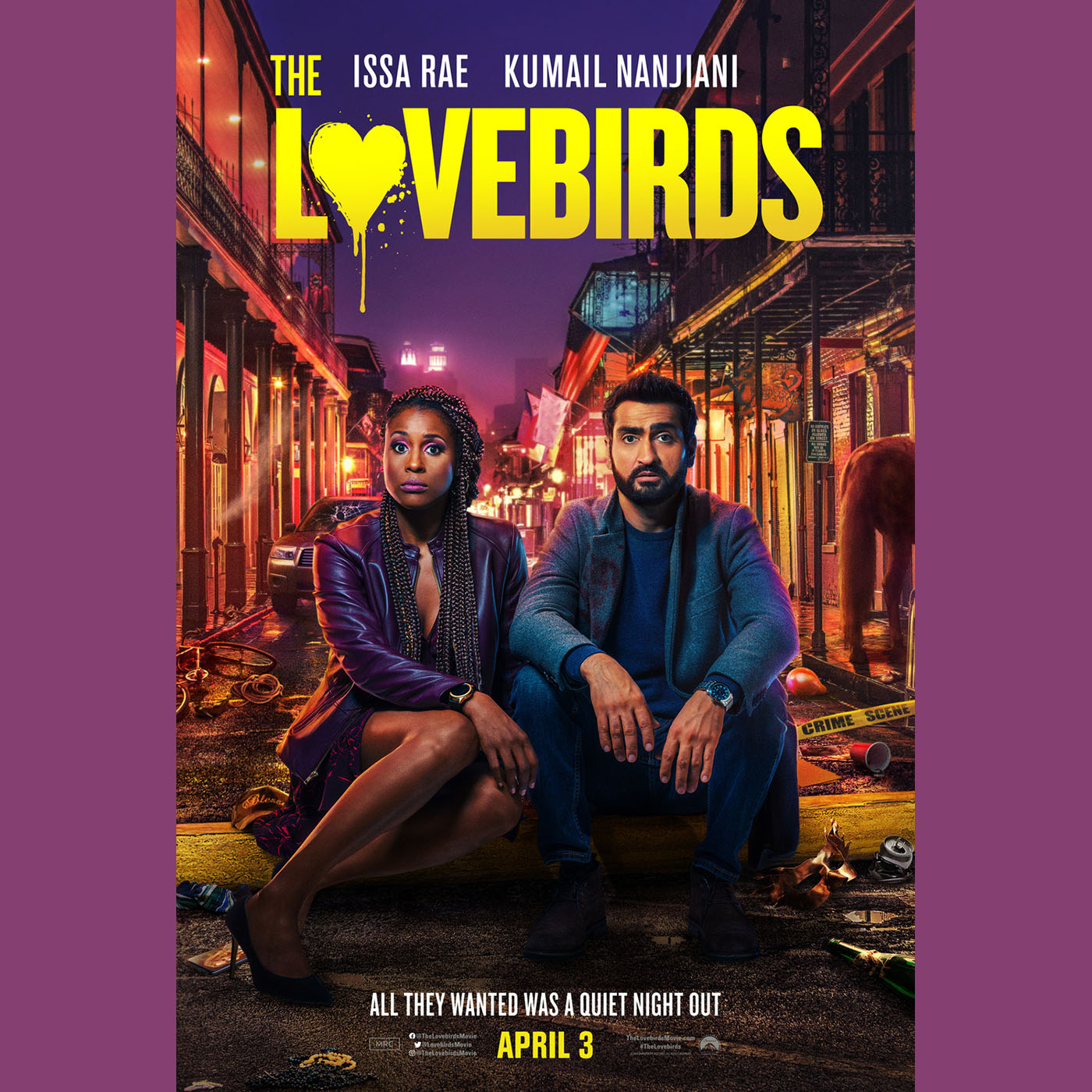 Let the new streaming film reviews continue! Today your movie gurus discuss a new Netflix rom com murder mystery, wow talk about an interesting genre! The Lovebirds starring Issa Rae and Kumail Nanjiani. Extracurricular topics include inflation, movie trailers revealing too much, and the film Independence Day.
The Lovebirds is a fun witty movie with some great comedic parts throughout the film.  There are also a handful of scenes where it falls short or just flat out does not need to be in the movie. Issa Rae and Kumail Nanjiani have excellent chemistry especially when they are arguing nonsense. Those are some of Matt's favorite LOL scenes and he doesn't LOL ever. It was a nice change of pace having the film based in New Orleans instead of New York City or LA like typical films of today. The writers also paid homage to previous great films like Stanley Kubrick's Eyes Wide Shut and the spy rom com Date Night.
Is this film going to win a ton of awards and set records, nope. It is a fun exciting LOL movie that is well worth a watch if you have Netflix. Mike gives The Lovebirds an OK rating with 2.5 out of 5 Reels.  Matt, always the more lenient reviewer, awards the film an average score of 3 out of 5 Reels.
Next week the guys keep the new streaming comedies going with a brand new Will Ferrell and Rachel McAdams comedy Eurovision Song Contest: The Story of Fire Saga premiering on Netflix Friday June 26, 2020. Thanks for listening to our latest podcast, we hope you enjoy it as much as we did. Chat at you next week!
---
If you have a film you would like Matt and Mike Talent to review you can email us at nerds@reelfilmnerds.com, listeners we are talking to you too.
Our little show can be found anywhere Podcasts reside such as iTunes, Spotify, Stitcher, Google Play, Tune In, etc. While you are there like, subscribe, rate, and review us if you can too!
You can find us on all things social such as YouTube, Facebook, Instagram, and Twitter.  Join our Facebook Fan Group so you can have a safe space to yell at Mike and Matt from the comfort of your keyboard while talking about films too.  Don't forget we do have an old fashioned website where you can watch trailers, read the host's bios, listen to the podcast, and get a ton more info on the movies we review.  http://www.ReelFilmNerds.com Thank you for liking, subscribing, rating, reviewing, and telling your friends about our podcast.
Go watch as many movies as you can!