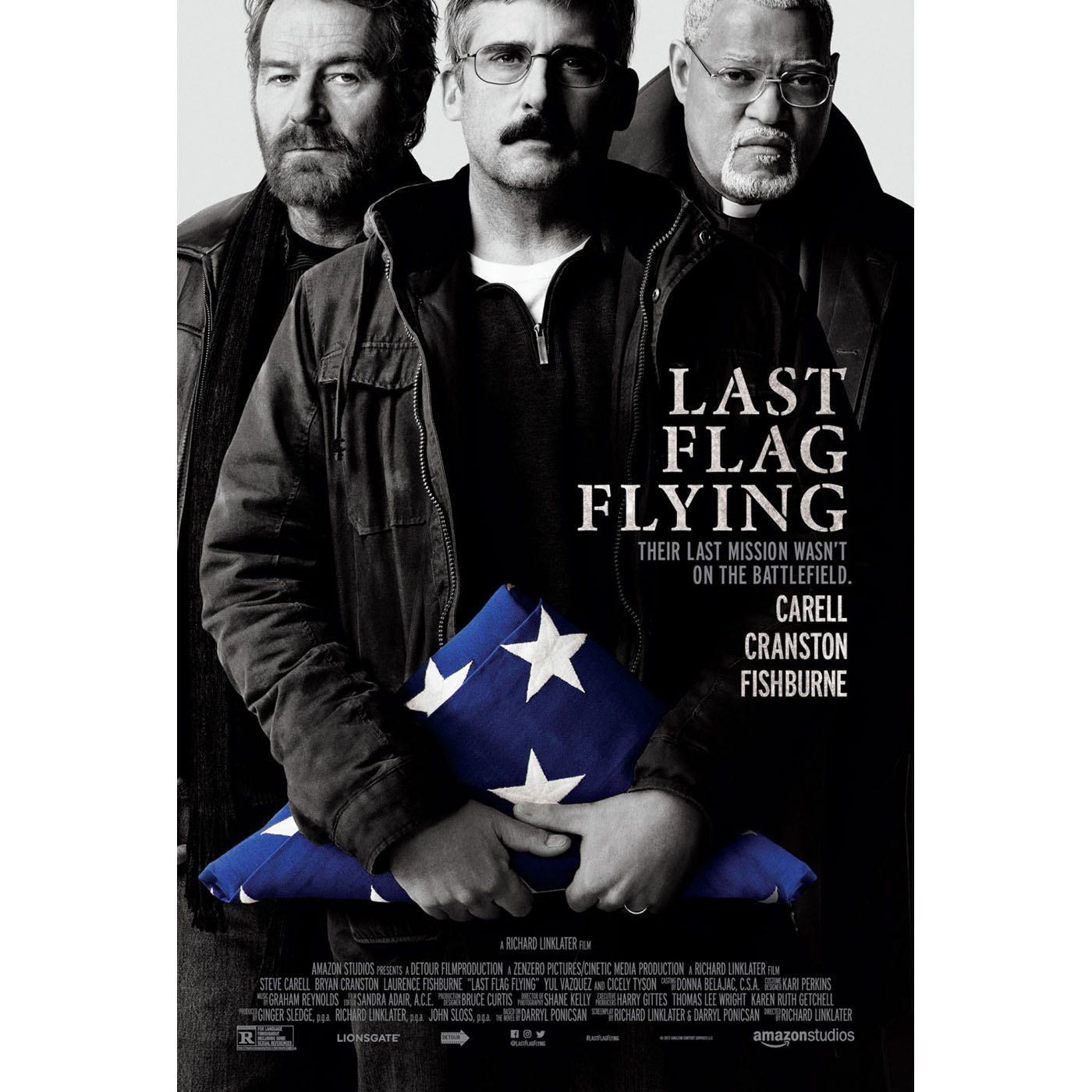 Hi everyone and welcome back!  We have been on a little bit of a break the past week, but we return to you today with a vengeance!  Ok well Matt returns with a vengeance, Mysterious Mike is M.I.A. after his recent nuptials.  I am guessing he is doing this thing called a honeymoon?  Single guys like Matt will never know what that is.  Back on topic, today Matt talks about Last Flag Flying an Amazon Studio's original starring Bryan Cranston, Laurence Fishburne, and Steve Carell.
Last Flag Flying is a very serious film that discusses a difficult but important topic.  It does get a little political here and there but how can you not when discussing the death of a young soldier?  The acting is incredible, the sets are great, but the story is what really sets this one apart.  It is nice having some well-timed and appropriate humor that helps with the very serious subject matter.  Matt really enjoyed Last Flag Flying and gives it 3.5 out of 5 Reels.    
Thank you liking, subscribing, and supporting our little pod.  Matt will do his best to wrangle up Mysterious Mike for Thursday where we will be discussing a biopic that is taking the country by storm, Bohemian Rhapsody.  Chat at you then!
---
If you have a film you would like to hear Matt and Mike review feel free to email us at nerds@reelfilmnerds.com  Thank you for liking, subscribing, rating, reviewing, and telling your friends about our podcast.
Our little show can be found anywhere Podcasts reside such as iTunes, Stitcher, Google Play, Tune In, Player FM, etc. While you are there like, subscribe, rate, and review us if you can too!
Make sure to follow us on social media such as Facebook, Instagram, and Twitter. Feel free to visit our website to watch trailers, read bios, and just flat out get more info on the movies we review.  http://www.ReelFilmNerds.com 
You can contact us through email as well Nerds@ReelFilmNerds.com
Now go out and catch a movie!