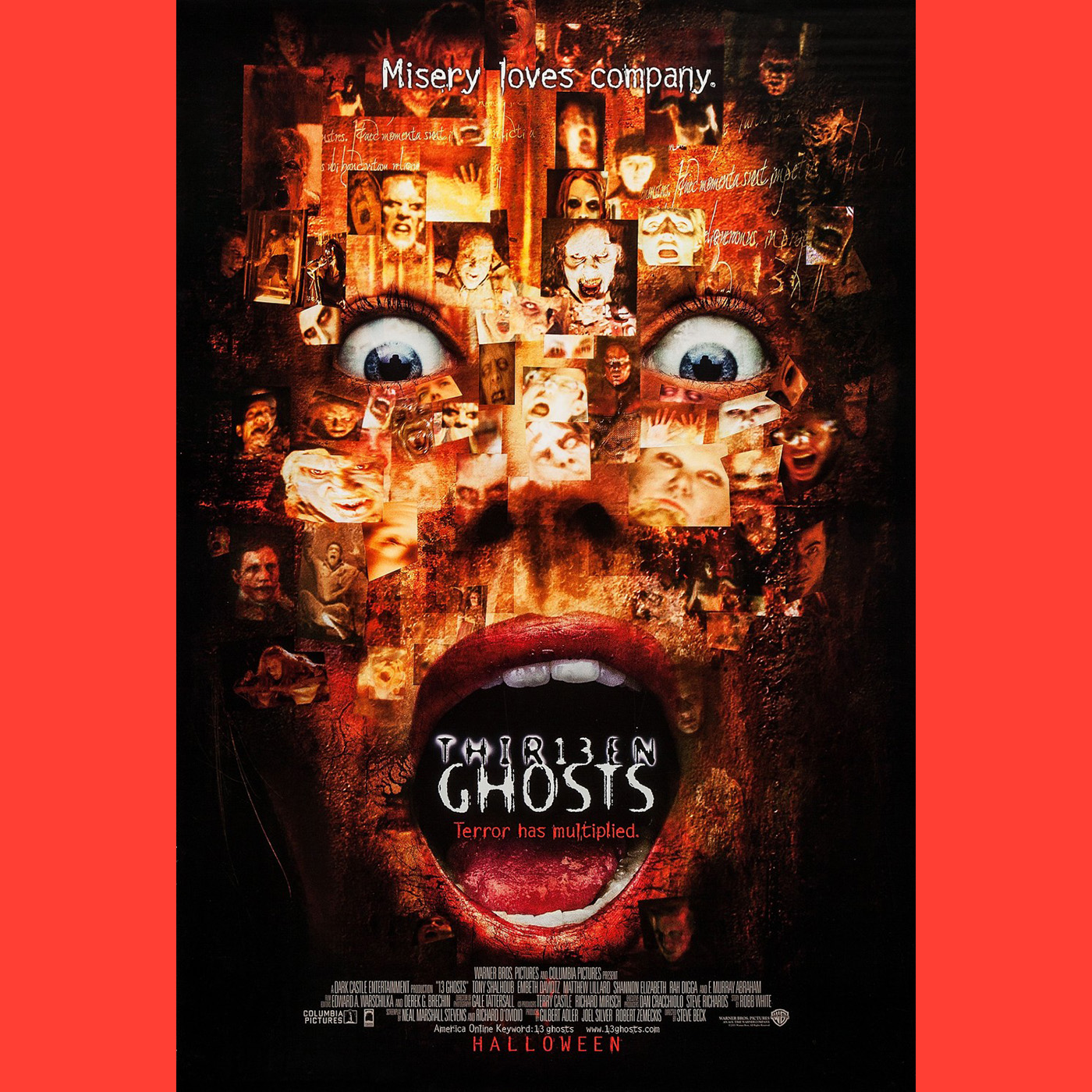 Welcome back everyone! Our 4th Annual Harvest Horror Fest kicks into high gear this week with the haunted house ghost movie classic Thir13en Ghosts starring Tony Shalhoub, Shannon Elizabeth, and Matthew Lillard. Off topics include the McRib returns, Paramount Pictures giveaway, and the Black Widow lawsuit.
Seriously, this movie is 20 years old? I remember watching this one in the theaters during college, man we are old! Thir13en Ghosts is a fun, dark, and gory haunted house flick with tons of awesome ghosts! The acting definitely leaves a lot to be desired, especially the side characters. This is still a great film that is holding up well and makes a perfect fit for our horror fest. The makeup is incredible and so is the creepy glass house in the woods. Thir13en Ghosts  is not for everyone but Mike and Matt agree it is worth a watch even if you have seen it before. Matt with the shocking higher rating gives Thir13en Ghosts 4 out of 5 Reels. Mike with a full reel lower awards it 3 out of 5 Reels.   
Next week the horror continues but this time in the theaters with the sequel to a sequel? Ya I think that's right, Halloween Kills starring Jamie Lee Curtis and Nick Castle. Thank you for your continued support of our podcast and we will chat at you next week.
---
If you have a film you would like Matt and Mike to review, email us at nerds@reelfilmnerds.com
You can find us on all things social such as YouTube, Facebook, Instagram, and Twitter.  Why not join our Facebook Fan Group so you can yell at Mike and Matt from the comfort of your keyboard while talking about films. We also have an old fashioned website where you can watch trailers, read the host's bios, listen to the podcast, and get a ton more info on the movies we review.  http://www.ReelFilmNerds.com Thank you for liking, subscribing, rating, reviewing, and telling your friends about our podcast.
Finally go out and catch as many movies as you can!