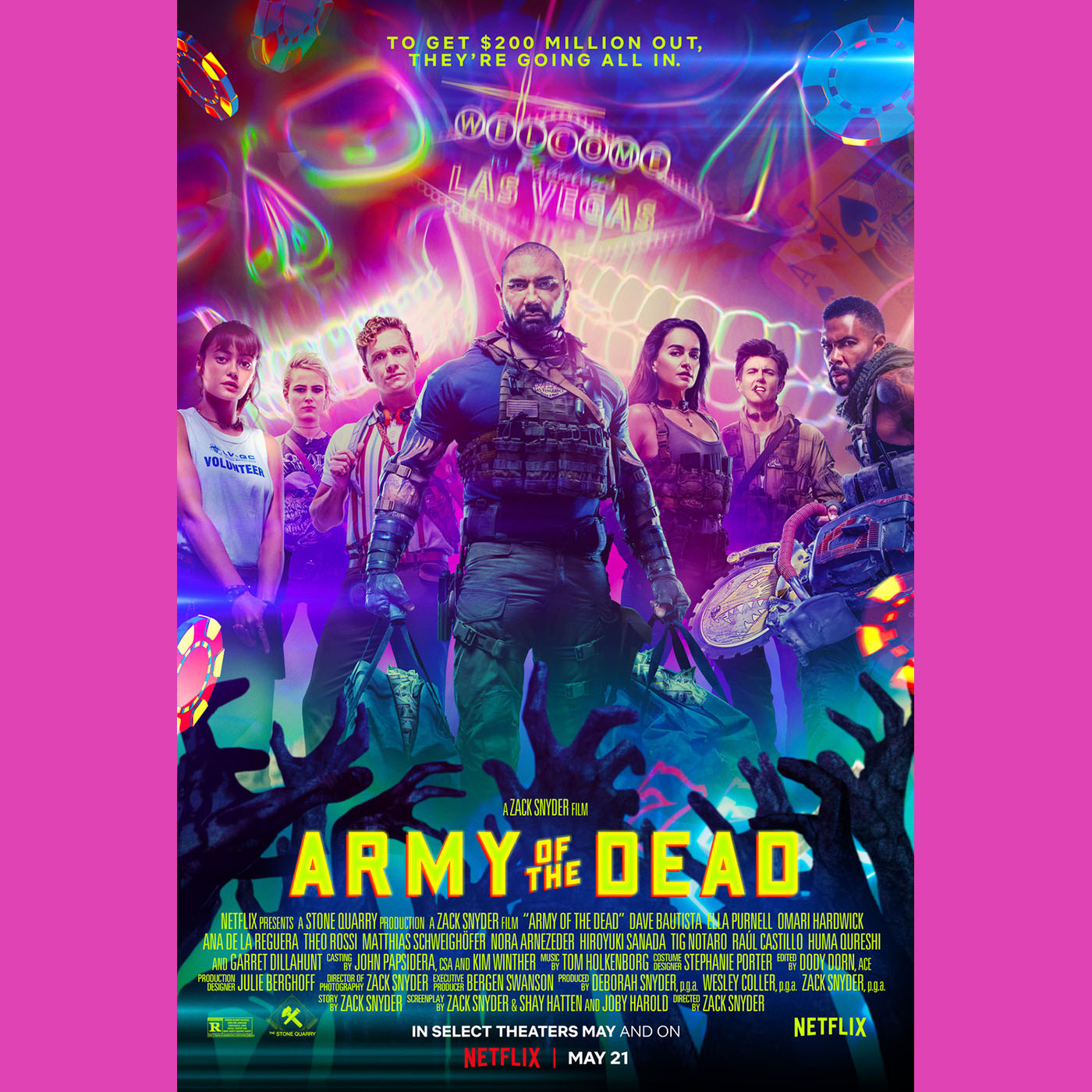 Welcome friends to another rousing episode of the Reel Film Nerds Podcast! Today Matt and Mike discuss the latest Netflix bank heist zombie horror film directed by Zack Snyder, Army of the Dead. Not brain eating topics include Rick and Morty, Las Vegas, and favorite zombie movies.
Here we go, another zombie movie brought to you by Zack Snyder but this one is not a remake. Army of the Dead promises a ton in it's trailer and mostly delivers. The fun gory blockbuster packs a punch when it comes to action and entertainment but lacks a great story. There are some incredible scenes the likes of which you have never seen and there are several that just flat out should have been cut. The CGI, acting, and stunts were excellent. Dave Bautista particularly is on his game with this film showing his range. Mike Talent loved Army of the Dead awarding it 4 out of 5 Reels. Matt also really enjoyed the zombie bank heist giving it an average score of 3 out of 5 Reels.
For next week Matt sends us back to the movie theater for opening weekend of the highly anticipated sequel A Quiet Place Part II. Written and directed by John Krasinski and starring his wife Emily Blunt with Cillian Murphy.  Thank you for supporting our podcast and we will chat at you next week.
---
If you have a film you would like Matt and Mike to review, email us at nerds@reelfilmnerds.com
You can find us on all things social such as YouTube, Facebook, Instagram, and Twitter.  Why not join our Facebook Fan Group so you can yell at Mike and Matt from the comfort of your keyboard while talking about films. We also have an old fashioned website where you can watch trailers, read the host's bios, listen to the podcast, and get a ton more info on the movies we review.  http://www.ReelFilmNerds.com Thank you for liking, subscribing, rating, reviewing, and telling your friends about our podcast.
Stay home and stream as many movies as you can!