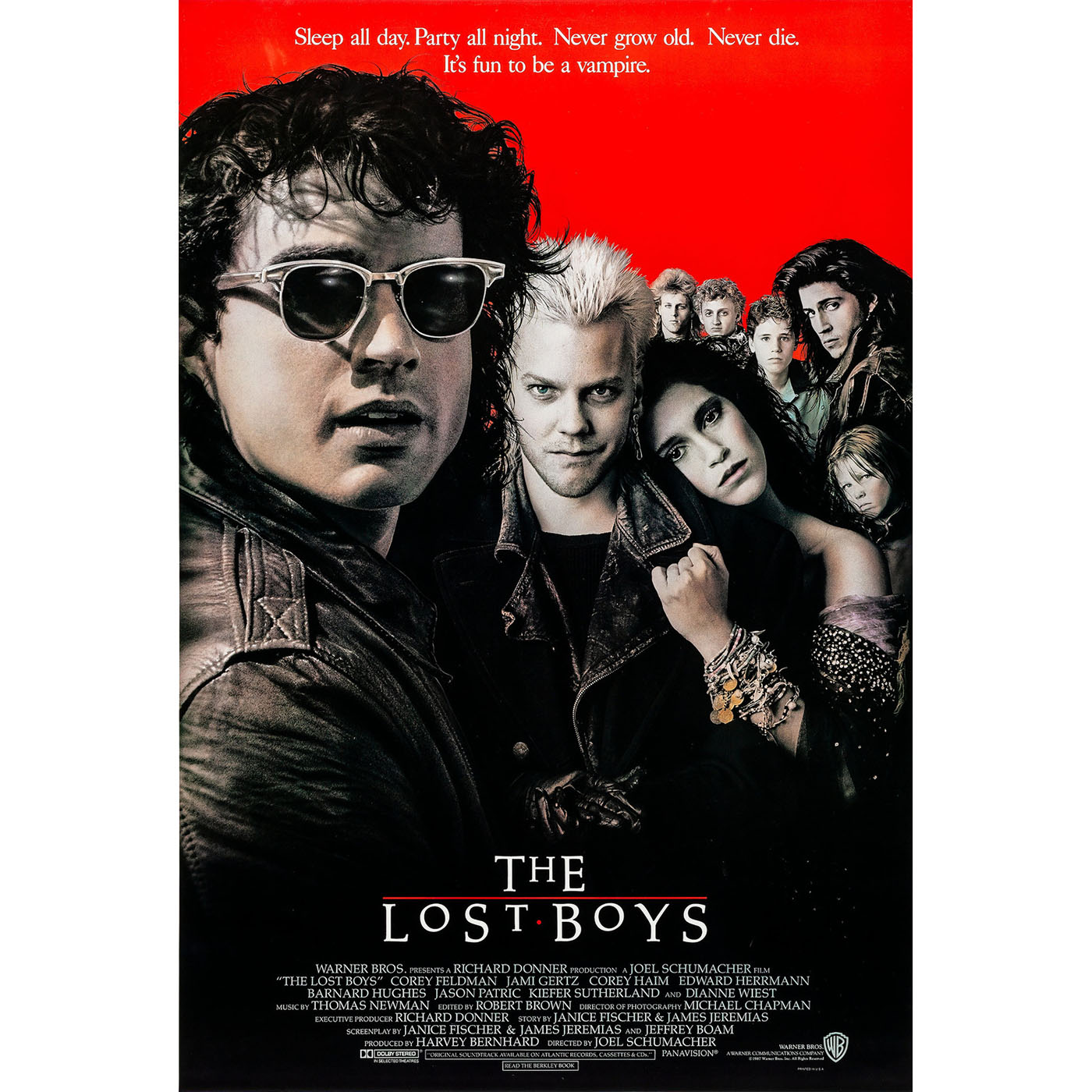 Our Third Annual Harvest Horror Fest continues with a true vampire horror comedy classic The Lost Boys (1987) starring Jason Patric, Kiefer Sutherland, and the two Coreys. Off topics include Taken, RAW vs JPEG, and Natalie Portman.
This is it, arguably the original teen vampire film, The Lost Boys (1987). Basically it's Matt and Mike's version of the Twilight saga or Vampire Academy except this movie is great. It is a fun dark action packed horror comedy that is shot well and acted well. Diane Wiest just won her second Academy Award the year before! The story is creative with unique characters. It has everything, even an extremely ripped dude playing a sax. The Lost Boys (1987) is a cult classic that needs no explanation why. It's just a really great fun film. Everyone should experience this flick in their lives. Mike awards the movie 4 out of 5 Reels. Matt, back to beating Mikes ratings, gives The Lost Boys (1987) 4.5 out of 5 Reels.              
Next Wednesday, we are sorry to say, is our final installment of Third Annual Harvest Horror Fest with one of Mike's picks Candyman (1992). If you have regular TV, we know you don't, but if you do it is playing on the SyFy channel this month. Lastly don't forget to enter our contest to win a copy of the brand new film Love and Monsters. We will chat at you next week!
---
If you have a film you would like Matt and Mike Talent to review you can email us at nerds@reelfilmnerds.com, listeners we are talking to you too.
Our little show can be found anywhere Podcasts reside such as iTunes, Spotify, Stitcher, Google Play, Tune In, etc. While you are there like, subscribe, rate, and review us if you can too!
You can find us on all things social such as YouTube, Facebook, Instagram, and Twitter.  Join our Facebook Fan Group so you can have a safe space to yell at Mike and Matt from the comfort of your keyboard while talking about films too.  Don't forget we do have an old fashioned website where you can watch trailers, read the host's bios, listen to the podcast, and get a ton more info on the movies we review.  http://www.ReelFilmNerds.com Thank you for liking, subscribing, rating, reviewing, and telling your friends about our podcast.
Go watch as many movies as you can!