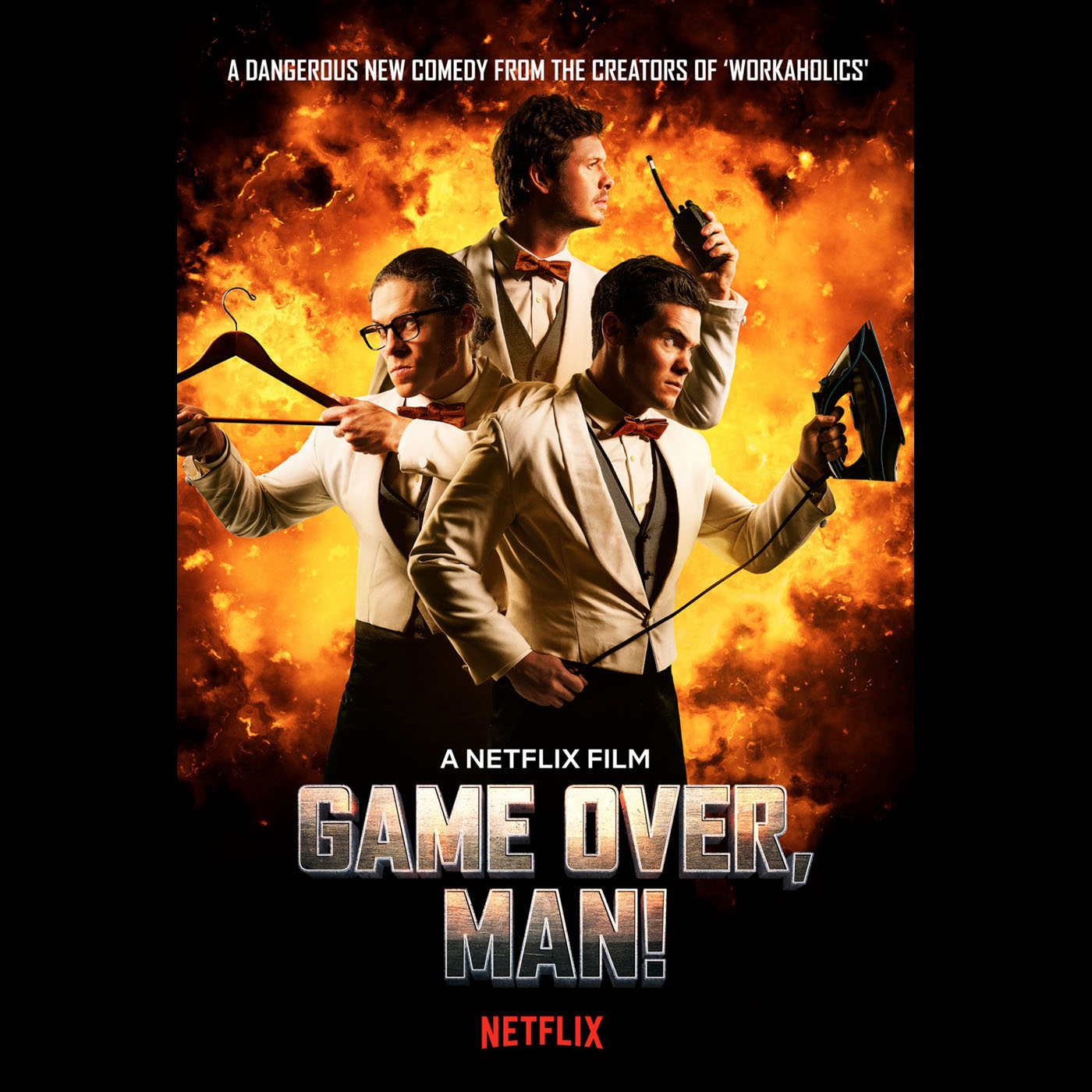 Hi everybody and welcome to the writing for an introduction to the latest Reel Film Nerds podcast!  Was that confusing? I know I am confused, anyways today your hosts Mike and Matt review a film that you definitely should not waste your time watching.  The Netflix Original starring the guys from Workaholics, Game Over, Man!  Off topics more entertaining than this film include emoji, stoner movies, and your hosts are old.
Seriously, do not watch this movie.  It is not a great way to spend your time at all.  It does have its moments with a handful of great bits but there are just too few to help rescue it's awful and confusing story.  The acting is fine, the sets are nothing special, and the story once again in trash. The guys had such a hard time talking about this one that they mostly were off topic for the entire podcast.  They are fun off topics and maybe too extreme but we are sure someone might be entertained at least for a little bit. Matt always being the nice guy that he is (Matt you really need to work on that especially in life), gives Game Over, Man! 2 out of 5 Reels.  Mysterious Mike Talent with surprising leniency gives this sad excuse for a movie 1.5 out of 5 Reels.
Next week the guys hit the theaters for what looks to be a really great horror film take on a classic character starring Elisabeth Moss, The Invisible Man.  Thanks for tuning in to our little pod and we will chat at you next week!
---
If you have a film you would like Matt and Mike Talent to review you can email us at nerds@reelfilmnerds.com, listeners we are talking to you too.
Our little show can be found anywhere Podcasts reside such as iTunes, Spotify, Stitcher, Google Play, Tune In, etc. While you are there like, subscribe, rate, and review us if you can too!
You can find us on all things social such as YouTube, Facebook, Instagram, and Twitter.  Join our Facebook Fan Group so you can have a safe space to yell at Mike and Matt from the comfort of your keyboard while talking about films too.  Don't forget we do have an old fashioned website where you can watch trailers, read the host's bios, listen to the podcast, and get a ton more info on the movies we review.  http://www.ReelFilmNerds.com Thank you for liking, subscribing, rating, reviewing, and telling your friends about our podcast.
Now go out and catch a movie!