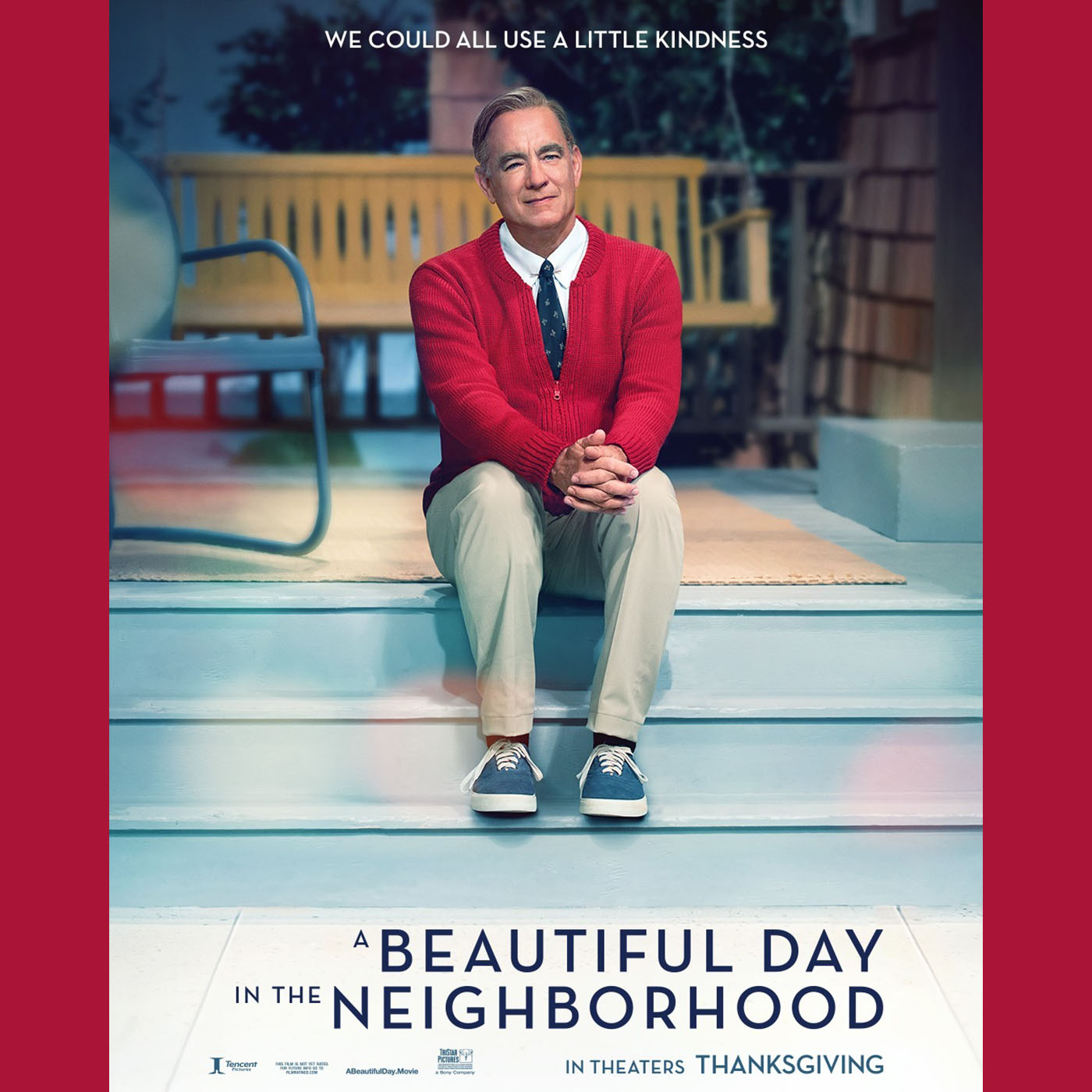 Happy Thanksgiving Eve everyone!  Are you ready to get your grub on?  Some families have a tradition of seeing movies on Thanksgiving.  Mike and Matt are here to help you decide if you should see the new Tom Hanks film inspired by one of the most loved Americans to walk the face of the earth, Fred Rogers in A Beautiful Day in the Neighborhood.  Additional topics today include Apple products, The Mandalorian (yes again), and Tom Hanks' comedic roles.
A Beautiful Day in the Neighborhood is a great film it was just not the film we were promised in the trailers.  The story is really good but it is not a story about Fred Rogers.  It involves Mr. Rogers in a big way but he is not the focus of the film.  It is loosely based on Esquire magazine journalist Tom Junod's article and friendship with Fred.  The film is very emotional especially if you grew up watching Mr. Rogers Neighborhood.  It pulls all the right strings especially the main character Lloyd Vodel's relationship with his family or lack thereof.  Mike and Matt both agree this is a great film but it is not worth going to the theaters to watch. Wait until it comes out to rent or to stream.  Mike gives A Beautiful Day in the Neighborhood an average rating of 3 out of 5 Reels, Matt is just a smidge higher with 3.5 out of 5 Reels.
The theaters are pretty dry for new releases over the Thanksgiving holiday weekend which is very strange.  So for next week your hosts will be doing a Tributary review on Martin Scorsese's straight to Netflix film The Irishman starring Robert De Niro, Al Pacino, and Joe Pesci.  Have a great holiday weekend and don't trample anyone trying to score killer Black Friday deals on your favorite films, electronics, or other goodies.  Thanks for hanging out with us and we will chat at you next week.
If you want to listen to way better podcast's don't forget to check out our sister podcasts The Bluemilk Podcast, The Mile High Show, and Rogues Radio Podcast also based in beautiful Prescott, Arizona.
---
If you have a film you would like Matt and Mike Talent to review you can email us at nerds@reelfilmnerds.com, listeners we are talking to you too.
Our little show can be found anywhere Podcasts reside such as iTunes, Spotify, Stitcher, Google Play, Tune In, etc. While you are there like, subscribe, rate, and review us if you can too!
You can find us on all things social such as YouTube, Facebook, Instagram, and Twitter.  Join our Facebook Fan Group so you can have a safe space to yell at Mike and Matt from the comfort of your keyboard while talking about films too.  Don't forget we do have an old fashioned website where you can watch trailers, read the host's bios, listen to the podcast, and get a ton more info on the movies we review.  http://www.ReelFilmNerds.com Thank you for liking, subscribing, rating, reviewing, and telling your friends about our podcast.
Now go out and catch a movie!