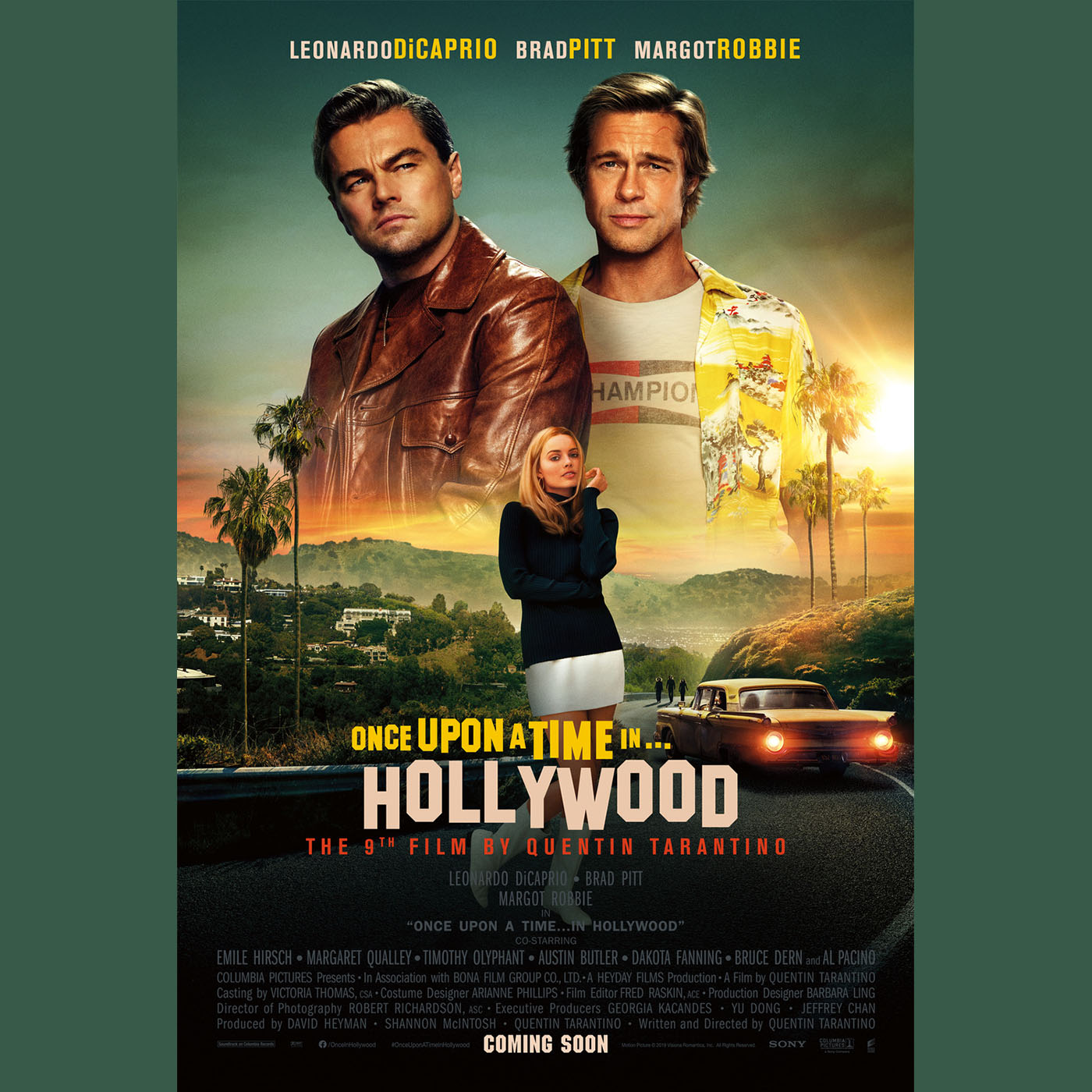 Well we did it, two pods in one week!  Fair warning up front it's a long one but a good one. Today Mike Talent and Matt discuss Quentin Tarantino's 9th film according to him, Once Upon a Time … in Hollywood.  Extra topics include what is feature length, QT's top 3 films, LaLa and Heather walk out, and sneaking booze into a movie theater.  
The hosts are really divided on this film.  They both are massive QT fans. He is an incredible story teller not only in his writing but also his shooting of a film.  Mike really loved Once Upon a Time … in Hollywood from start to finish.  He particularly enjoyed the amazing sets and driving scenes with all the nostalgic incredible automobiles.  Matt on the other hand thought it dragged at the beginning and an hour could easily be cut from this film. They both wanted more of certain scenes and story lines and less of others.  Matt also thinks Margo Robbie got robbed.  She did an incredible job as Sharon Tate but the character was not in the film enough.  Mike gives an above average rating of 4 out of 5 Reels.  Matt gracious gives QT's 9th film 3 out of 5 Reels.        
Next week the guys talk about the over the topic action film Fast & Furious Presents: Hobbs & Shaw.  Matt has not seen any of the Fast & Furious franchise films since Tokyo Drift so this might be an interesting review.  If the hosts have the time they will also get around to doing a Tributary review of the Netflix Original Revenger.  Thanks for tuning in and supporting the show.                           
Please support our sister podcasts The Bluemilk Podcast and The Mile High Show also based in beautiful Prescott, Arizona.  They are way better podcasts than ours. Seriously.
---
If you have a film you would like Matt and Mike Talent to review you can email us at nerds@reelfilmnerds.com, listeners we are talking to you too.
Our little show can be found anywhere Podcasts reside such as iTunes, Spotify, Stitcher, Google Play, Tune In, etc. While you are there like, subscribe, rate, and review us if you can too!
You can find us on all things social such as YouTube, Facebook, Instagram, and Twitter.  Join our Facebook Fan Group so you can have a safe space to yell at Mike and Matt from the comfort of your keyboard while talking about films too.  Don't forget we do have an old fashioned website where you can watch trailers, read the host's bios, listen to the podcast, and get a ton more info on the movies we review.  http://www.ReelFilmNerds.com Thank you for liking, subscribing, rating, reviewing, and telling your friends about our podcast.
Now go out and catch a movie!