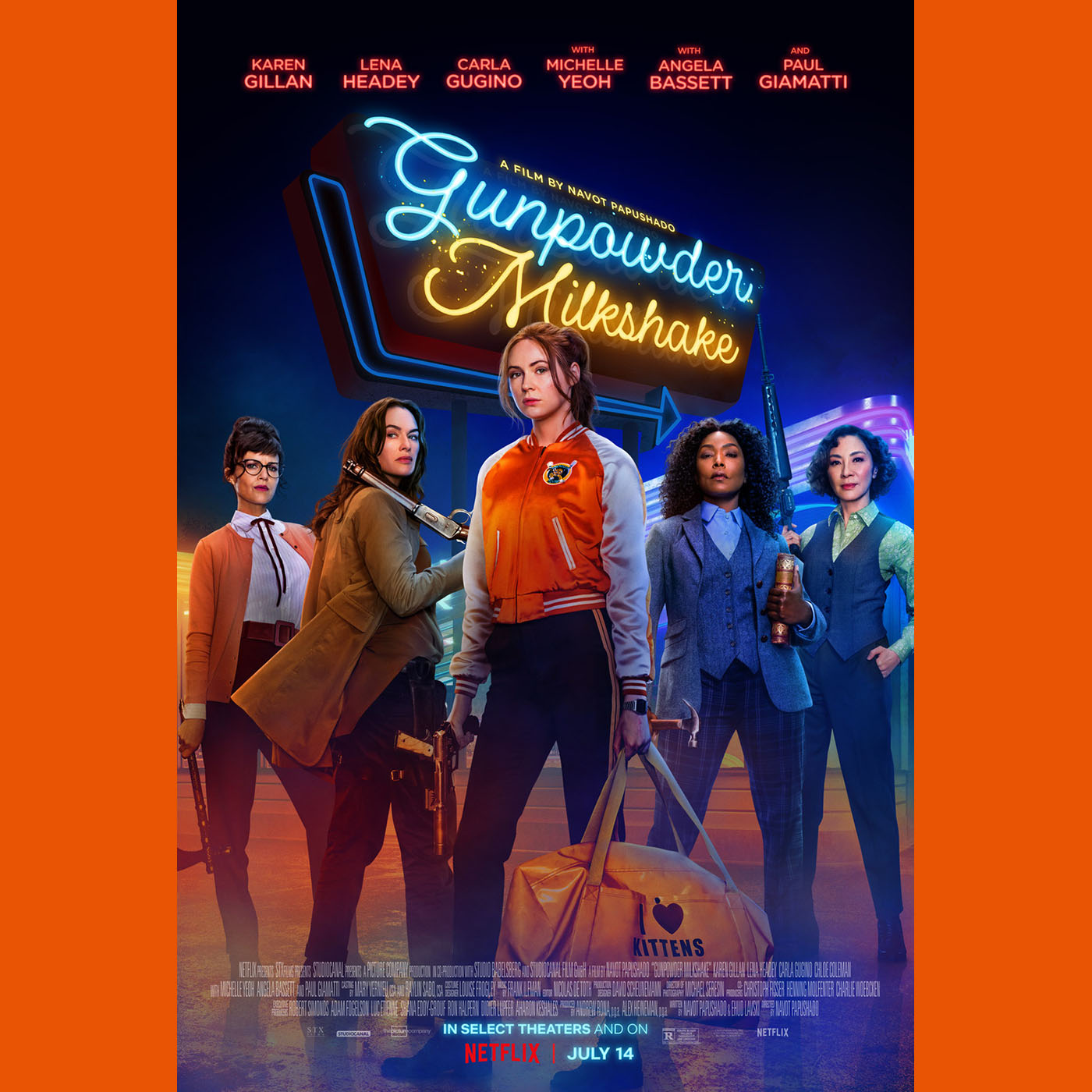 What a killer pod we have for you today, that pun is brought to you by this week's special guest. For Reel Film Nerds Episode #231 Mike, Matt and our incredible guest host sit down and chat about the Netflix Original Gunpowder Milkshake. Extra special topics today include Mom jokes, video stores, and the return of nocturnal flatulence.
This was a pleasant surprise for an original streaming film. Gunpowder Milkshake is Jon Wick for ladies, as Matt puts it. Karen Gillan delivers nonstop over the top action as an assassin working for The Firm. Things quickly go south and she turns to her fellow female assassins the librarians to fight off a horde of dude assassins set on revenge. The action was amazing and the acting was stellar but what do you expect from such a star studded cast? A really nice treat is the style, color palette, and cinematography of the film. It is very dream-like. Gunpowder Milkshake is a terrible name for a movie but it is a don't miss action thriller where ladies really kick some butt! Mike, Matt and their special guest all agree this film earns a very high rating of 4 out of 5 Reels.
Next week  if the theaters stay open, Mike and Matt will try to catch a ride on the new Disney movie Jungle Cruise starring Dwayne "The Rock" Johnson and Emily Blunt. Thank you for your continued support of our podcast and we will chat at you next week.
---
If you have a film you would like Matt and Mike to review, email us at nerds@reelfilmnerds.com
You can find us on all things social such as YouTube, Facebook, Instagram, and Twitter.  Why not join our Facebook Fan Group so you can yell at Mike and Matt from the comfort of your keyboard while talking about films. We also have an old fashioned website where you can watch trailers, read the host's bios, listen to the podcast, and get a ton more info on the movies we review.  http://www.ReelFilmNerds.com Thank you for liking, subscribing, rating, reviewing, and telling your friends about our podcast.
Finally go out and catch as many movies as you can!