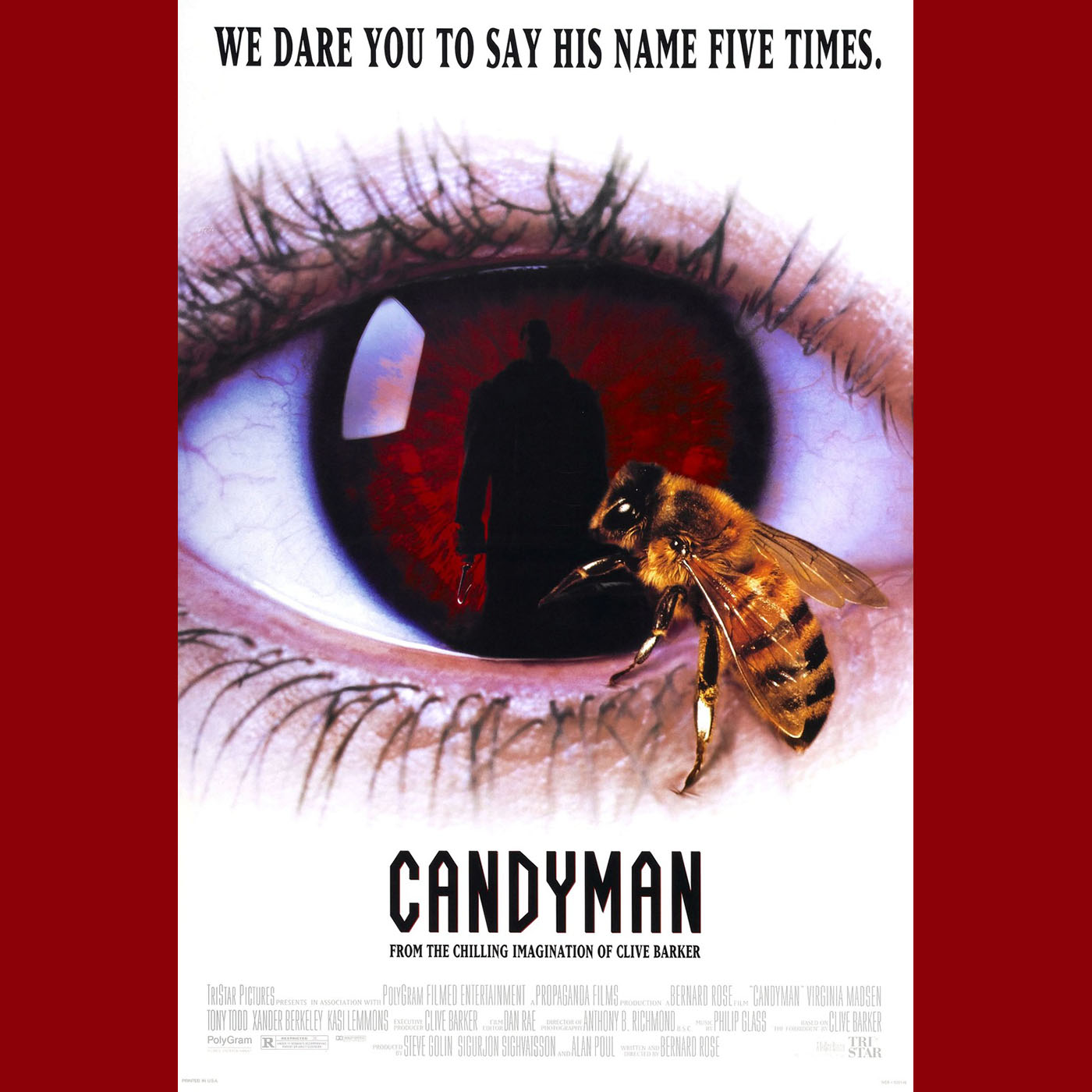 We saved the best for last for our Third Annual Harvest Horror Fest, Candyman (1992) starring Tony Todd and Virginia Madsen. Additional topics include the importance of movie soundtracks, urban legends, and discovering old photographs.
Neither of your hosts have seen this film in a very long time and it caught them off guard. Candyman (1992) is a great movie that has stood the test of time. The story, based on the "The Forbidden," by Clive Barker is fantastic. It is dark, rooted in history, and really makes the viewer think. Tony Todd and Virginia Madsen, who play our main characters, do a fantastic job bringing fear and curiosity to their roles. The kill scenes are particularly unique in this film. They do not show the act but rather the aftermath. It really helps make the movie even more frightening. Mike and Matt both really enjoyed their re-watch of Candyman (1992) and agree everyone should see it.
Mike continues his streak of higher than normal ratings giving the film 4.5 out of 5 Reels. Matt just a smidge lower, awards Candyman (1992) 4 out of 5 Reels. Hopefully Jordan Peele will keep true to the original with his Candyman (2021) expected for release in August 2021.
Next week instead of getting all political we are going to watch a fun Netflix Original comedy Hubie Halloween starring Adam Sandler and Julie Bowen. Don't forget to enter our contest to win a copy of the brand new film Spell (2020) from Paramount Pictures. Thanks for your support and we will chat at you next week!
---
If you have a film you would like Matt and Mike Talent to review you can email us at nerds@reelfilmnerds.com, listeners we are talking to you too.
Our little show can be found anywhere Podcasts reside such as iTunes, Spotify, Stitcher, Google Play, Tune In, etc. While you are there like, subscribe, rate, and review us if you can too!
You can find us on all things social such as YouTube, Facebook, Instagram, and Twitter.  Join our Facebook Fan Group so you can have a safe space to yell at Mike and Matt from the comfort of your keyboard while talking about films too.  Don't forget we do have an old fashioned website where you can watch trailers, read the host's bios, listen to the podcast, and get a ton more info on the movies we review.  http://www.ReelFilmNerds.com Thank you for liking, subscribing, rating, reviewing, and telling your friends about our podcast.
Go watch as many movies as you can!