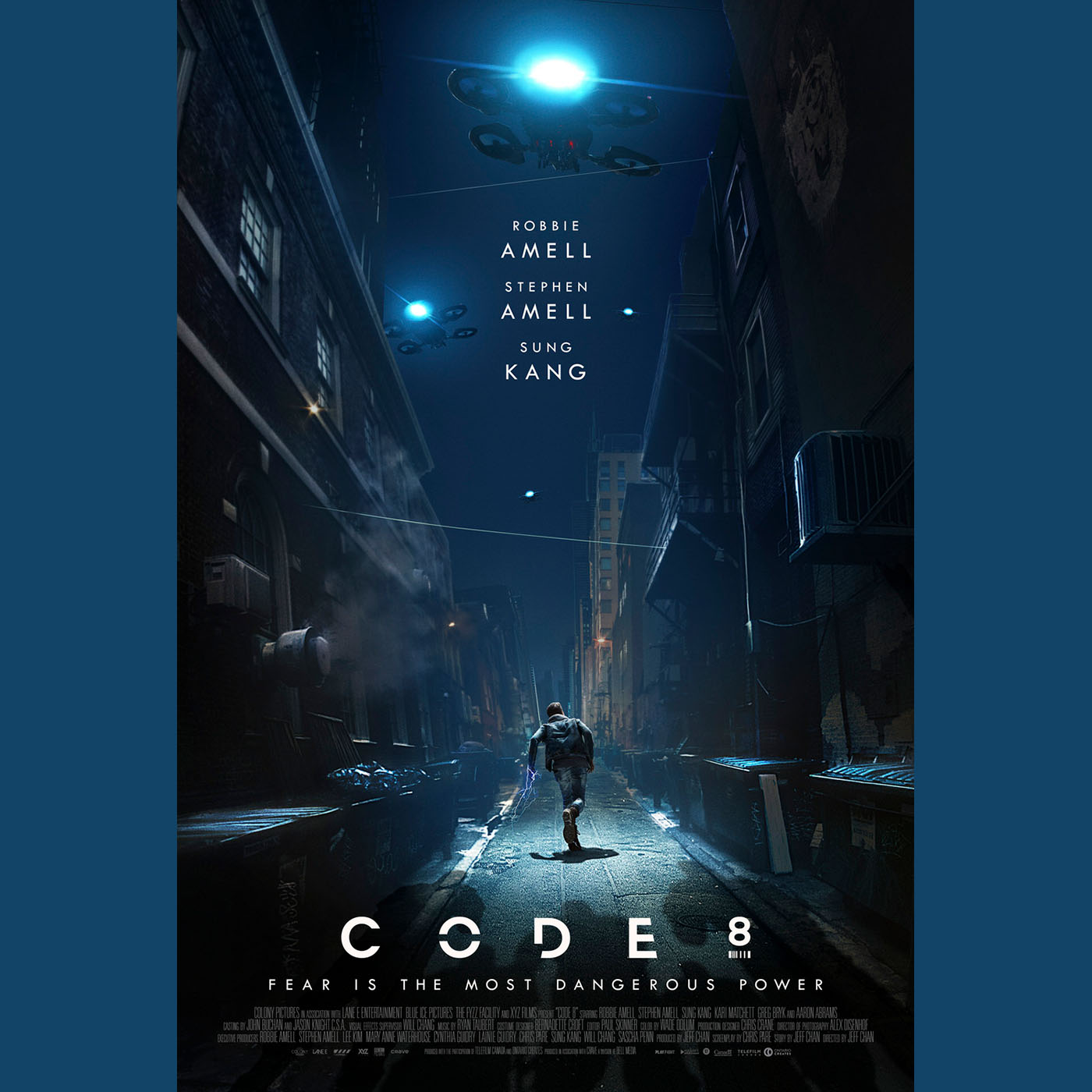 Welcome kiddos! Are you sick of watching TV, movies, and listening to the Reel Film Nerds podcast yet? No? Great, neither are we so here is a fresh one for your ear holes. Today Mike Talent and Matt checked out an independent Sci-Fi film that Netflix purchased recently Code 8. Not Code 8 topics include Zoom Meetings, the joys of breeding, and Parks and Recreation.
Code 8 is a really great fun action packed Sci-Fi movie. It is perfect right now to help keep your mind off being stuck inside. It takes place in an alternate universe where a percentage of the population basically has superpowers. Oh and there are these sick robots that were created to help police the troublemaker supers. The story and the special effects are the absolute best part of this film. It is astonishing what they were able to do on an independent  budget. The acting well it's a little rough.  It is not awful by any means it just could have been better. Mike and Matt really enjoyed this film and do suggest you sit down and watch it. Regretfully though they keep landing on the same rating!! This week makes 5 reviews in a row where they agreed, so boring! They both give Code 8 a respectable 3 out of 5 Reels.
Next week is Matt's pick and boy did he grab a great watch. It is a film by a little director you might have heard of Martin Scorsese. The film though is one you might not have heard of. It is from 1999 titled Bringing Out the Dead. If you have Amazon Prime it is currently streaming on Prime Video for free. Why not sit down this week and watch it then email us your thoughts on the film. We will even read them on the pod! Thanks for checking our little review and booze show.  Why not do us one more favor and help spread the love by telling your friends and family to listen too!  Chat at you next week.
---
If you have a film you would like Matt and Mike Talent to review you can email us at nerds@reelfilmnerds.com, listeners we are talking to you too.
Our little show can be found anywhere Podcasts reside such as iTunes, Spotify, Stitcher, Google Play, Tune In, etc. While you are there like, subscribe, rate, and review us if you can too!
You can find us on all things social such as YouTube, Facebook, Instagram, and Twitter.  Join our Facebook Fan Group so you can have a safe space to yell at Mike and Matt from the comfort of your keyboard while talking about films too.  Don't forget we do have an old fashioned website where you can watch trailers, read the host's bios, listen to the podcast, and get a ton more info on the movies we review.  http://www.ReelFilmNerds.com Thank you for liking, subscribing, rating, reviewing, and telling your friends about our podcast.
Now go out and catch a movie!