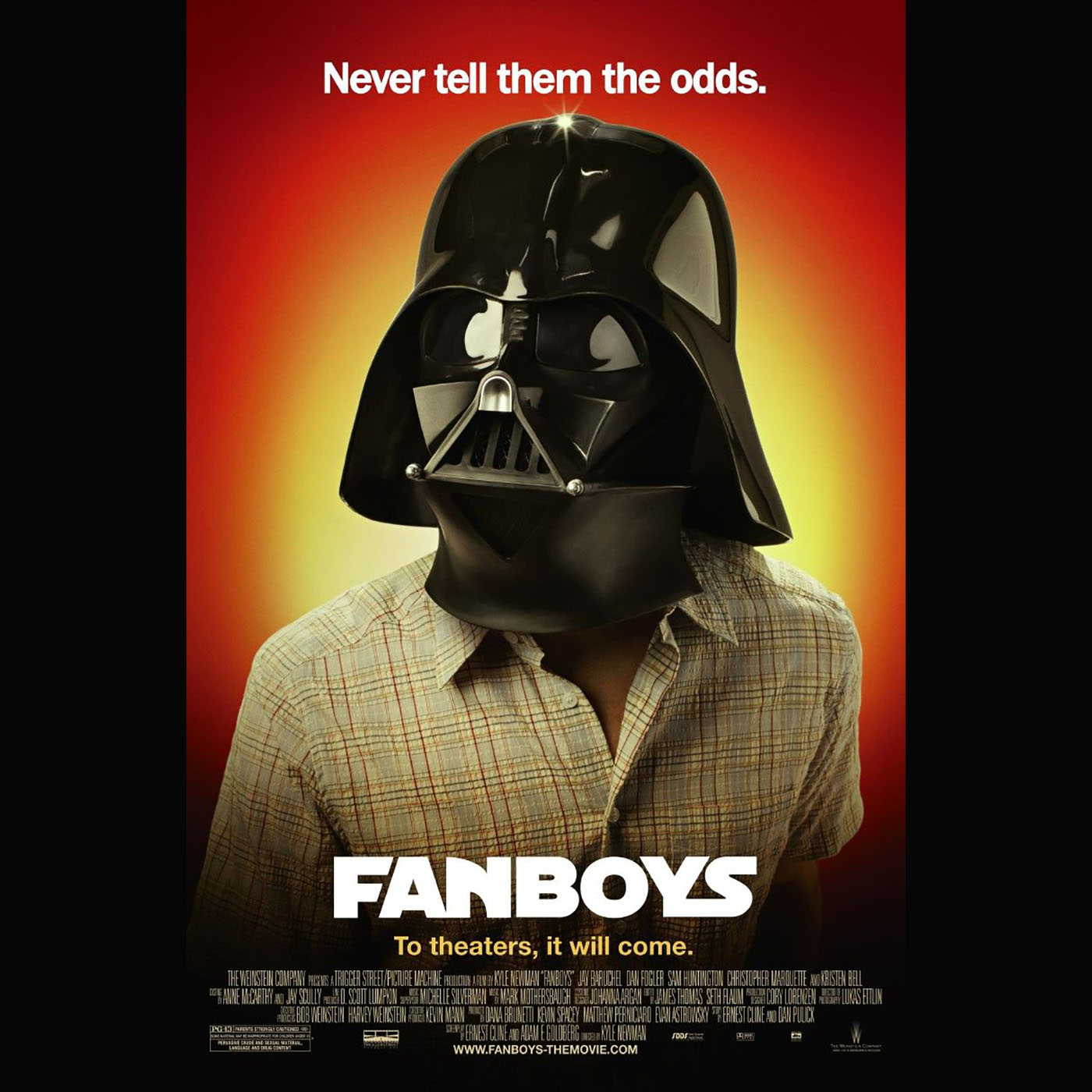 Wow episode 100!  How do we keep hitting these milestones?  Maybe they aren't milestones because of how often we record.  Today we have some amazing guests to help celebrate 100 episodes of the Reel Film Nerds Podcast, two-thirds of The Bluemilk Podcast Dirk AKA Drinking and Jacob AKA Hyena Boy.  Mike Talent is still MIA. Rumor is he was captured by Oddjob after trying to steal Goldfinger's golden girl.  Why The Bluemilk guys you say, are you finally reviewing Star Wars? Sorry to disappoint you but nope. We are reviewing an incredible Star Wars related film though Fanboys.  Bonus Bluemilk topics include Area 51, Kevin Smith, and the never ending nerd war between Star Trek and Star Wars fans.
Fanboys is a really incredible film especially if you like Star Wars even a little bit.  If you are a super fan like Jacob, Dirk, and Matt you will enjoy it even more! It is a laugh out loud comedy littered with amazing cameos and actors who clearly are passionate about Star Wars as well.  The cinematography is mediocre, the acting is good, but the script and the story is where this film really shines. Hyena Boy really enjoyed the film awarding it 3 out of 5 Reels. Drinking and Matt who are both infinitely wiser enjoyed Fanboys much more.  They both award it 4 out of 5 Reels. If you have not watched it and you are a nerd do yourself a favor and check it out. It really is a good time.
I hope you enjoyed this past week's special guests.  If you did or if you didn't let us know, we yearn for your feedback.  Mike Talent and Matt are hoping to get more special guests on when they can to chat about movies.  Don't forget to like, subscribe, and share The Bluemilk Podcast on YouTube, Facebook, Instagram, and Twitter.  We will chat at you on Tuesday with hopefully our review of Us if Mike Talent ever escapes the clutches of Oddjob.
---
If you have a film you would like to hear Matt and Mike review feel free to email us at nerds@reelfilmnerds.com  Thank you for liking, subscribing, rating, reviewing, and telling your friends about our podcast.
Our little show can be found anywhere Podcasts reside such as iTunes, Stitcher, Google Play, Tune In, Player FM, etc. While you are there like, subscribe, rate, and review us if you can too!
Make sure to follow us on social media such as Facebook, Instagram, and Twitter. Feel free to visit our website to watch trailers, read bios, and just flat out get more info on the movies we review.  http://www.ReelFilmNerds.com 
You can contact us through email as well Nerds@ReelFilmNerds.com
Now go out and catch a movie!