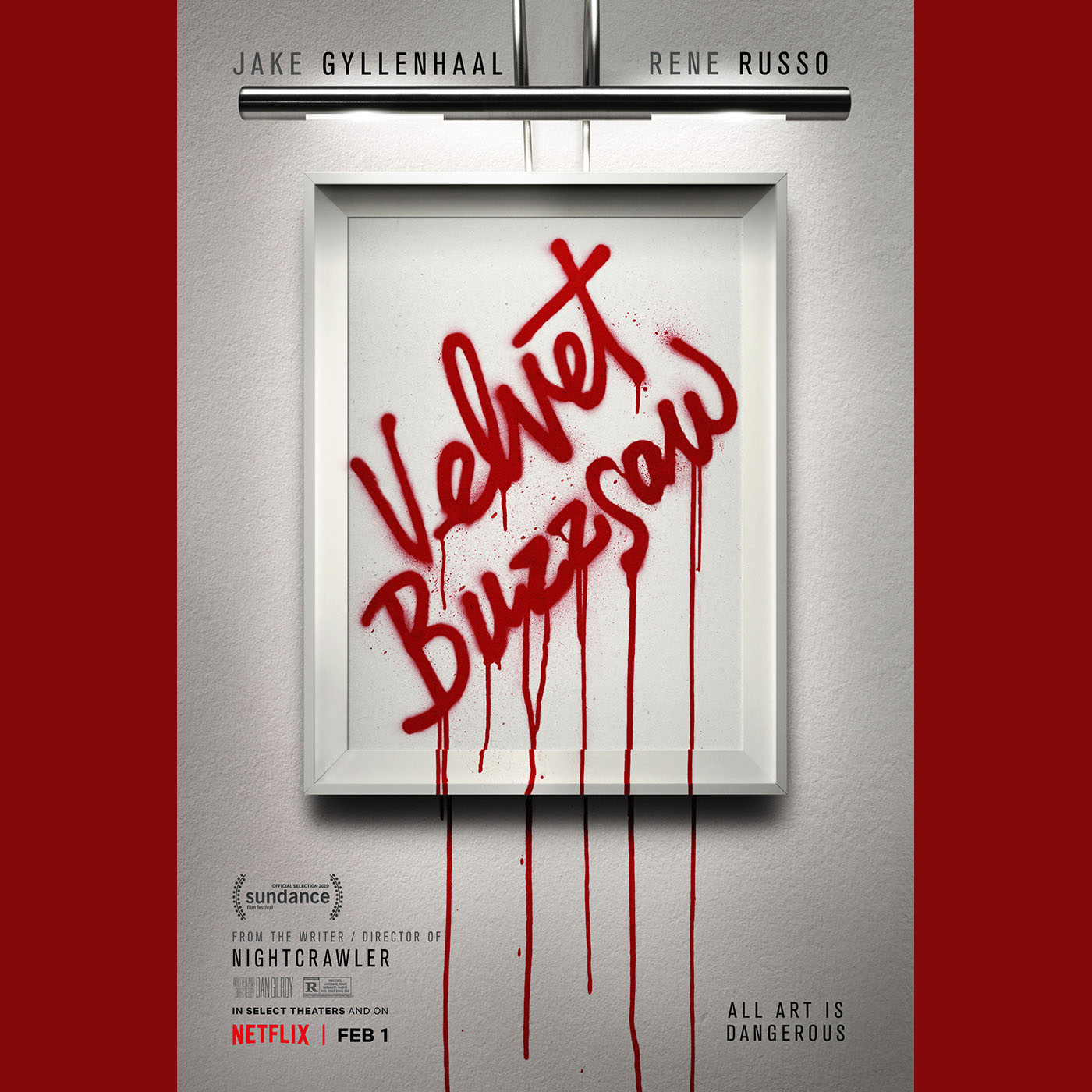 Happy National Chili Day!  Do yourself a favor head down to Phoenix, catch a spring training baseball game, and grab a chili dog.  I know Mike and Matt would if they didn't have jobs.  Back to the topic at hand, today the boys swim upstream and catch the Netflix original Velvet Buzzsaw.  Bonus annoying topics include snow beer, the art world and who really cares about it, and lastly home viewing experience versus going to a movie theater.  That last topic the guys really went off on bad.  It is an interesting discussion that warrants a listen but if you want to skip it the discussion takes place later towards the end of the pod.   
Velvet Buzzsaw is a fun mystery thriller that takes place in a world not many people pay attention to.  The cast is incredible and headlined by Jake Gyllenhaal and Rene Russo.  The blood and gore is a bit over the top at times but hey it is a horror movie, so it's expected.  The plot and characters of the film are engaging and fantastic.  Velvet Buzzsaw really reminds Mysterious Mike of the massive horror movie hit the Ring from 2002.  The hosts both really enjoyed the film, but Matt enjoyed it more.  He gives the movie 4 out of 5 Reels.  Mike Talent thought it was just average for a horror movie, his favorite genre, he awards it 3 out of 5 Reels.         
Next week the guys review a truly horrible movie Green Lantern.  It is a request from BJ one of the hosts' over at the Blue Milk Podcast.  Let's see how brutal Mike and Matt are with this review.  Our second review for next week is an Amazon Prime original The Lost City of Z.  A true-life drama, centering on British explorer Col. Percival Fawcett, who disappeared whilst searching for a mysterious city in the Amazon in the 1920s.  Enjoy your weekend and we will chat with you on Tuesday.
---
If you have a film you would like to hear Matt and Mike review feel free to email us at nerds@reelfilmnerds.com  Thank you for liking, subscribing, rating, reviewing, and telling your friends about our podcast.
Our little show can be found anywhere Podcasts reside such as iTunes, Stitcher, Google Play, Tune In, Player FM, etc. While you are there like, subscribe, rate, and review us if you can too!
Make sure to follow us on social media such as Facebook, Instagram, and Twitter. Feel free to visit our website to watch trailers, read bios, and just flat out get more info on the movies we review.  http://www.ReelFilmNerds.com 
You can contact us through email as well Nerds@ReelFilmNerds.com
Now go out and catch a movie!