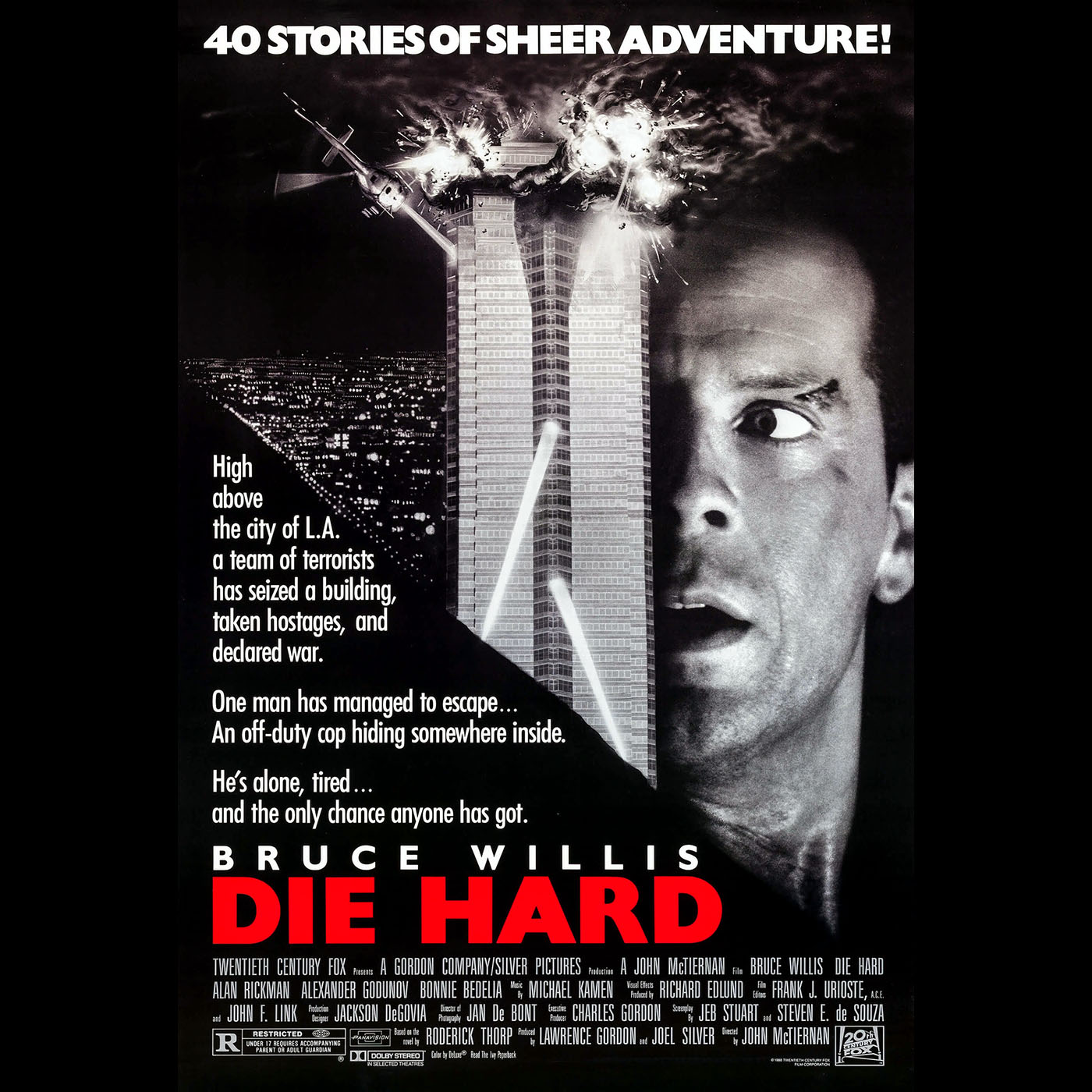 Merry Christmas everyone!!!!  We hope you opened lots of presents this morning and got everything you ever wanted.  Your hosts Matt and Mysterious Mike sure as hell didn't.  Back on topic today in honor of Christmas we review one of Mike's favorite Christmas movies of all time, Die Hard.  The guys talk about their first R rated movies, the hot mess that is Skyscraper, and their family Christmas get together's.  Grab a cool glass of eggnog and enjoy our review of Die Hard!
Die Hard is one of the many great 1980's action films in cinematic history.  The action is fantastic, the sets look incredible, and Bruce Willis is the every-man action hero guys want to be and women want to be with.  I think this goes without saying but Mysterious Mike loves this movie with all his heart.  He awards it his second perfect score in RFN history with 5 out of 5 Reels.  Matt really likes Die Hard a lot too but re-watching it definitely does not stand the test of time as well as it should.  He gives Die Hard a very good rating of 4.5 out of 5 Reels.
Thanks everyone for joining us for this super special Die Hard Christmas episode of the Reel Film Nerds Podcast.  We will not have an episode on Thursday thanks to your hosts busy holiday schedules.  They will return with the two films they promised to review this week, Spider-Man: Into the Spider-Verse and Welcome to Marwen with maybe even more reviews if they have the time to chat this weekend.
Thanks for your continued support of our podcast.  Without you our listeners, this podcast would not exist, seriously.  Anyways do us a favor and tell your friends and family about our fun little pod especially if you hate it!  Don't forget to subscribe and listen to our sister podcasts Rogues Radio, Code 3 Podcast, The Blue Milk Podcast, and The Mile High Show.
---
If you have a film you would like to hear Matt and Mike review feel free to email us at nerds@reelfilmnerds.com  Thank you for liking, subscribing, rating, reviewing, and telling your friends about our podcast.
Our little show can be found anywhere Podcasts reside such as iTunes, Stitcher, Google Play, Tune In, Player FM, etc. While you are there like, subscribe, rate, and review us if you can too!
Make sure to follow us on social media such as Facebook, Instagram, and Twitter. Feel free to visit our website to watch trailers, read bios, and just flat out get more info on the movies we review.  http://www.ReelFilmNerds.com 
You can contact us through email as well Nerds@ReelFilmNerds.com
Now go out and catch a movie!